BANGKOK, Thailand - The army commander who seized Thailand's government in a quick, bloodless coup pledged Wednesday to hold elections by October 2007, and received a ringing endorsement from the country's revered king.
Gen. Sondhi Boonyaratkalin also hinted that ousted Prime Minister Thaksin Shinawatra may face prosecution.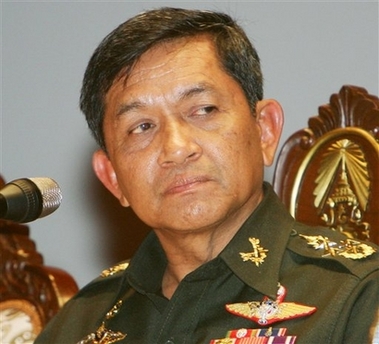 Thailand's Army Commander-in-Chief Gen. Sondhi Boonyaratkalin listens to a reporter's questions in Bangkok Wednesday, Sept. 20, 2006. The army general who ousted Prime Minister Thaksin Shinawatra indicated Wednesday that the fallen leader could be prosecuted for wrongdoing and said a post-coup interim government would retain power for no more than one year. Transitional government to be formed in Thailand after two weeks, following coup, says Gen. Sondhi. [AP]
Sondhi said he would act as prime minister for two weeks until a new leader is chosen by the Council of Administrative Reform, that an interim constitution would be drafted within that time, and that Thailand's foreign policy and international agreements would remain unchanged.
Australia called the coup a "great disappointment," while Japan urged the quick restoration of democracy. The European Union condemned the military takeover, while Washington expressed concern about it. The United States, Britain and other nations also warned their citizens in Thailand to exercise caution.
King Bhumibol Adulyadej appointed Sondhi as head of the council "in order to create peace in the country," according to an announcement on state-run television.
"All people should remain peaceful and civil servants should listen to orders from Gen. Sondhi Boonyaratkalin from now on," it said.
Sondhi led a precision takeover overnight without firing a shot, sending soldiers and tanks to guard major intersections and surround government buildings while the popularly elected Thaksin, accused of corruption and undermining democratic institutions, was in New York attending the U.N. General Assembly.
Asked at a news conference if there would be moves to confiscate Thaksin's vast assets, Sondhi said that "those who have committed wrongdoings have to be prosecuted according to the law." He did not elaborate.
In launching Thailand's first coup in 15 years, Sondhi said on nationwide television that the overthrow was needed "in order to resolve the conflict and bring back normalcy and harmony among people."
"I am the one who decided to stage the coup. No one supported me," he said.
Sondhi, 59, known to be close to the king, is a Muslim in a Buddhist-dominated nation.
State-run television also said the new leaders had dismissed the state audit commissioners and given additional powers to the auditor general Jaruvan Maintaka to investigative government corruption. Analysts said the move is expected to make it easier for Jaruvan to investigate allegations of corruption involving Thaksin and his ministers and could eventually lead to the confiscation of his assets.
The British Foreign Office said Thaksin was to arrive Wednesday in London on a private visit. A spokeswoman for Gatwick Airport said a chartered Thai Airways jet was due to land there around noon EDT.
The Thai Embassy in London said it had no immediate information on Thaksin's whereabouts.
A British government spokesman said Thaksin had no meetings scheduled with Prime Minister Tony Blair or other officials.
Bangkok, a city of more than 10 million, was calm Wednesday. Most stores were open and residents appeared unfazed, with traffic running as normal and the tanks becoming popular tourist attractions.
About 500 people gathered outside army headquarters to lend moral support to the military, chanting "Thaksin get out!"
But in the first sign of anti-coup sentiment, Thaksin supporters faced off with rival groups celebrating the coup at two separate gatherings in Bangkok. Soldiers intervened, narrowly averting clashes.
The council put the country under martial law and declared a provisional authority loyal to the king, seizing television and radio stations and ordering government offices, banks, schools and the stock market to close for the day.
The unexpected coup rattled Asian financial markets and pressured the Thai baht and other regional currencies, though its economic repercussions remained unclear.
Nearly 20 tanks ¡ª their machine gun barrels festooned with ribbons in the royal color of yellow ¡ª had blocked off the Royal Palace, Royal Plaza, army headquarters and Thaksin's office at Government House.
In the afternoon, the tanks began shifting from positions in downtown Bangkok. It was not immediately clear whether the tanks were withdrawing, or merely changing positions. Government public relations officials said they could not immediately comment.
Asked whether there would be moves to confiscate Thaksin's vast assets, Sondhi said that "those who have committed wrongdoings have to be prosecuted according to the law." He did not elaborate.
The Nation newspaper in Bangkok said several senior government officials and others close to Thaksin had been arrested, their fates unknown.
It said they included Deputy Prime Minister Chitchai Wannasathit and Thaksin's top aide Prommin Lertsuridej.
Agriculture Minister Sudarat Keyuraphan, one of Thaksin's closest political associates, fled to Paris with her family, it said.
In Washington, the State Department said it was uneasy about the military takeover and hoped "the Thai people will resolve their political differences in accord with democratic principles and the rule of law."
Australian Prime Minister John Howard described the coup as a "great disappointment," adding that it was a reminder of an element of Asia's past he had hoped would not return. "We condemn military coups," Howard said. "They are a throwback to a past I had hoped Asia had emerged from."
Japan also called for the quick restoration of democracy in a country where many of its top businesses have factories and affiliates.
The European Union joined condemnation of the coup and said "the military forces stand back and give way to the democratically elected political government."
China described the coup as "an internal affair of Thailand" and made no public judgment. "The friendly relations between China and Thailand will continue to develop," Chinese Foreign Ministry spokesman Qin Gang said.
The International Monetary Fund, which bailed Thailand and some of its neighbors out of a financial crisis in the late 1990s, was closely watching the situation but believed the region would be little affected, said the IMF's chief, Rodrigo de Rato.
"Thailand's economy is fundamentally strong," de Rato said.
The U.S. Embassy, in an e-mail to its citizens living in Thailand, said while there had been no reports of violence, Americans should "monitor the situation closely, avoid any large gatherings and exercise discretion when moving about the city."
"At this point, we are not advising Americans to leave Thailand; however, Americans planning to travel to Thailand may wish to carefully consider their options before traveling until the situation becomes clearer," the e-mail read.
Britain told its citizens in Thailand to stay in their homes, while Japan, Australia and Canada similarly advised caution.
Thaksin, a telecommunications tycoon before entering politics, handily won three general elections since coming to power in 2001 and garnered great support among the rural poor for his populist policies.
But he alienated the urban middle class, intellectuals and pro-democracy activists. They began mass street demonstrations last year, charging him with abuse of power, corruption and emasculation of democratic institutions, including media that were once among Asia's freest.
The bloodless coup was the first overt military intervention in Thailand since 1991, when Suchinda Kraprayoon, a military general, toppled a civilian government in a bloodless takeover. He was ousted in 1992 following street demonstrations.