Baikonur, Kazakhstan - An Iranian-American telecommunications entrepreneur took off Monday on a Russian rocket bound for the international space station, achieving her dream of becoming the the world's first paying female space tourist.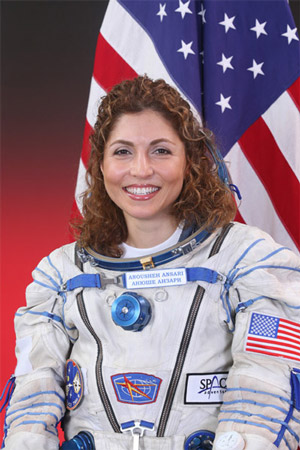 Anousheh Ansari was accompanied by a US-Russian crew on the Soyuz TMA-9 capsule, which entered orbit about 10 minutes after liftoff from the Russian cosmodrome in Kazakhstan.
Ansari reportedly paid US$20 million to become the fourth private astronaut to take a trip on a Russian spacecraft and visit the station.
"I'm just so happy to be here," she said ebulliently as she entered the rocket Monday, watched by about a dozen relatives.
As smoke billowed below the rocket, her relatives gasped and her mother clasped her hands in front of her chest.
Ansari's husband, Hamid Ansari, watched the liftoff stoically, but her sister's face was streaked with tears and her aunt jumped up and down, shrieking and pumping her arms in the air.
At Russian Mission Control, NASA flight director Robert Dempsey said Ansari's presence was a plus to the mission. As for the propriety of sending tourists into space, he said: "My personal feeling is I wish it could be me."
The Soyuz TMA-9 capsule took off less than a day after the US space shuttle Atlantis pulled away from the orbiting station and began its journey Earthward.
On board with Ansari were Russian cosmonaut Mikhail Tyurin and US astronaut Michael Lopez-Alegria, who were to join German astronaut Thomas Reiter on the station just over 48 hours after liftoff.
Ansari, 40, was due to return to Earth on Sept. 29, along with cosmonaut Pavel Vinogradov and astronaut Jeffrey Williams, who have been on the station since April.
On Sunday, Ansari defended the role of "space flight participants" and said she viewed herself as an ambassador for attracting private investment to space flight.
"In order to make great leaps in space exploration ... private companies and the government need to work together," she said at a news conference at the cosmodrome in Baikonur.
Ansari gave US$10 million in 2002 for the naming rights to a prize awarded to the first successful privately financed manned trip into space.
Ansari follows in the footsteps of Britain's Helen Sharman, who flew to Russia's Mir Space Station in 1991 as a tourist as part of a lottery system called Project Juno.
Astronaut Lopez-Alegria said just a few years ago he was skeptical of private tourists. But he said now it was clear that the Russian space program needed such investment ¡ª and that without the Russian space program, the US space program would suffer.
"If that's the correct solution... then not only is it good from the standpoint of supporting the Russian space program, but it's good for us as well," he said. Ansari's presence in space "is a great dream and a great hope not just for our country but for countries all around the world."
Cosmonaut Tyurin called Ansari "very professional" and said he felt like they had worked together for a decade.
Ansari said she expected seeing Earth from space would alter her view of the planet.
"You'll see how small and how fragile the Earth is compared to the rest of the universe," she said. "It will give us a better sense of responsibility."
Earlier she said she was eager to see Iran from space, she hasn't been back since emigrating to the United States, and hopes to inspire girls in her homeland to study science.
Ansari and her family left Iran a few years after the Islamic revolution, in part because the opportunities for a young girl to study science were becoming limited there.
Speaking no English when she arrived as a teenager with her family in Virginia, she went on to earn bachelor's and master's degrees in engineering within a few years.
She and her husband married in 1991 and later moved to Texas to start a company that made signal-switching software for phone networks.
In 2000, at the height of the telecommunications boom, they sold their suburban Dallas company to Massachusetts-based Sonus Networks Inc. for US$550 million in Sonus stock.
The value of those shares slid from US$40 to under US$5 as the telecom industry collapsed but her husband said they had "enough opportunity to sell enough shares to earn financial independence."
The timing of some stock sales led to shareholder suits against Sonus and nine people, including Anousheh Ansari. The plaintiffs accused her of illegal insider trading in the sale of US$26.3 million in Sonus stock.
A spokeswoman for the couple said the Securities and Exchange Commission never accused Mrs. Ansari of insider trading.
Tyurin and Lopez-Alegria are to join Reiter as the construction at the space station is picking up pace. On the agenda for the four days following the departure of the Atlantis: The station's current crew will shift a Progress supply ship to a different docking port to make way for the Soyuz; Atlantis will land back on Earth; and the Soyuz will dock at the station.
During the six-month tenure of Tyurin and Lopez-Alegria, four space walks are planned, with as many as three to be conducted in January to help set up the station's permanent cooling system. Another will take place earlier to retrieve and install experiments on the station's exterior.