NATO: Anti-Taliban operation done
(AP)
Updated: 2006-09-17 21:01
KABUL, Afghanistan - A top NATO general said Sunday that the alliance's anti-Taliban offensive in southern Afghanistan has been "successfully completed."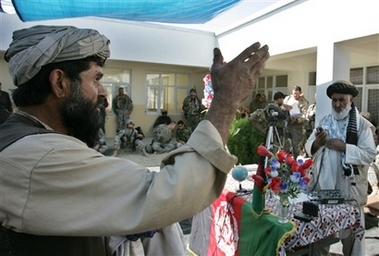 Daulat Khan, left, complains against the state government of Ghazni as the Governor Haji Sher Alam, right, listens during the inauguration of a district administrative building in Ander, Ghazni province of Afghanistan, Sunday Sept. 17, 2006. [AP]
Lt. Gen. David Richard, the head of the 20,000 NATO-led force, called the two weeklong operation in insurgency wracked southern Afghanistan a "significant success."
The insurgents were forced to abandon their positions and reconstruction and development efforts would soon begin in three southern areas, he said.