US military deaths in Iraq hit 2,681
(AP)
Updated: 2006-09-17 08:44
As of Saturday, Sept. 16, 2006, at least 2,681 members of the U.S. military have died since the beginning of the Iraq war in March 2003, according to an Associated Press count. The figure includes seven military civilians. At least 2,131 died as a result of hostile action, according to the military's numbers.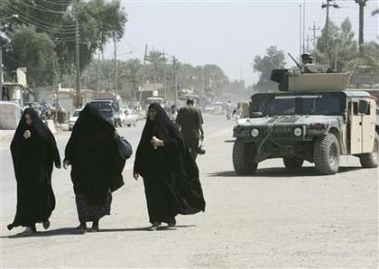 A U.S. soldier holds a weapon aboard an armoured vehicle while securing a road as U.S. troops from the 1st Brigade Combat Team, 4th Infantry Division, turned over the security of Tarmiya district to the Iraqi police in Baghdad September 16, 2006.[Reuters]
The AP count is five more than the Defense Department's tally, last updated Friday at 10 a.m. EDT.
The British military has reported 118 deaths; Italy, 32; Ukraine, 18; Poland, 17; Bulgaria, 13; Spain, 11; Denmark, El Salvador, four each; Slovakia, three; Estonia, Netherlands, Thailand, two each; and Australia, Hungary, Kazakhstan, Latvia, Romania, one death each.
___
The latest deaths reported by the military:
No deaths reported.
___
The latest identifications reported by the military:
Marine Lance Cpl. Ryan A. Miller, 19, Pearland, Texas; killed Thursday in Anbar province; assigned to 3rd Battalion, 3rd Marine Regiment, 3rd Marine Division, III Marine Expeditionary Force, Kaneohe Bay, Hawaii.