TOKYO - Japan's Princess Kiko can do no wrong these days. Since bearing a male heir to the Chrysanthemum Throne this week, she has been extolled as a model wife, a paragon of motherhood and even a national symbol of courage.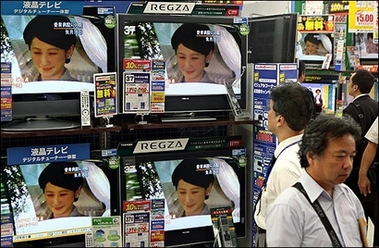 Customers watch TV reports on the birth of a prince to Princess Kiko at an electric store in downtown Tokyo. Japan's Princess Kiko gave birth to the royal family's first boy in more than 40 years, easing a succession crisis and silencing calls to let a woman lead the world's oldest monarchy. [Reuters]
The mass adulation of cheerful Kiko, who gave birth to a boy by Caesarean section on Wednesday, has clashed strikingly with the image of Crown Princess Masako and her highly publicized troubles in adjusting to palace life.
The contrast between the two princesses has even prompted some in Japan to declare that Kiko and her husband, Prince Akishino, have now trumped his older brother Crown Prince Naruhito and Masako in the imperial pecking order.
"Crown Prince and Prince Akishino reverse the fraternal hierarchy," declared Weekly Bunshun magazine on Thursday, detailing how Kiko mixes cocktails for her husband's friends and keeps a close eye on her daughters' table manners.
"She's cheerful, she smiles, she doesn't look like she's thoroughly miserable," said Jeff Kingston, director of Asian studies at Temple University in Tokyo. "Princess Masako has definitely not adjusted well and Kiko has adjusted perfectly."
The differences between the two princesses go way back.
Kiko and Akishino, college sweethearts, married in 1990 after a five-year courtship. Masako, meanwhile, a Harvard-educated career diplomat, made Naruhito wait two months after his first proposal for a reply.
After their 1993 marriage, excruciating pressure fell on Masako to produce a male heir to the throne. She suffered a miscarriage in 1999, had a daughter, Aiko, in 2001, then fell into a stress-induced depression that still keeps her away from most public imperial functions.
Kiko, in the less pressured role as wife of Emperor Akihito's second son, has apparently thrived _ in the media spotlight as well as at the palace. The conservative Yomiuri newspaper this week reported how she carried out her duties even when pregnant with her first child.
The differences between the couples were accentuated when Naruhito, in a rare display of imperial candor, criticized court officials at a news conference in 2004 for restricting Masako's activities.
A few months later, Akishino publicly broke with his brother, telling reporters he and the emperor were surprised by Naruhito's remarks and that the crown prince should have consulted with his father before talking publicly.
The drumbeat of praise for Kiko has steadily risen with her pregnancy, and hit fever pitch this week after she delivered the one thing that Masako hasn't: a male heir to the throne.
Many Japanese, especially conservatives, had high hopes for a boy, since the royal family had not produced a male heir since Akishino himself was born in 1965. Kiko's child is now third in line to the throne behind Naruhito and Akishino.
The birth _ Kiko's third _ was also especially poignant as Japan grapples with a record-low birthrate and a declining population that one day could hobble the economy.
"We women should learn from the princess's courage in overcoming the pain of a Caesarian section and giving birth to her third child," gushed Chikage Oogi, head of parliament's upper house.
In some ways, the difference in the two princesses' images reflects conservative values in Japan, where women have traditionally been expected to stay at home and care for their husbands and children.
While former career woman Masako is often portrayed as headstrong and unwilling to make the appropriate sacrifices for the good of royalty, Kiko gets high marks for her gentle demeanor and devotion to her husband's family.
"Princess Kiko today has grown so dependable," the Mainichi newspaper said in an editorial Wednesday. "Being a princess must be her perfect lifetime career."
While Kiko's stock has risen sky-high, many Japanese still maintain sympathy for Masako, who they realize has taken on much more responsibility as crown princess.
Some were hoping that the birth of a boy and the easing of the royal family's succession crisis would take some of the attention off her.
"I don't think there is a great difference between Princess Kiko and Princess Masako, but if there is any, it is the pressure that Princess Masako felt," said Chikako Nishida, 33, housewife and mother.
"I'm sure that pressure is now relieved," she said.