DAMASCUS, Syria - Venezuelan President Hugo Chavez said in Damascus on Wednesday that he and Syrian President Bashar Assad shared a "decisive and firm" stance against U.S. "imperialism" and "domination."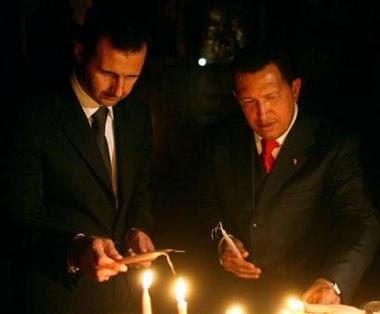 Venezuelan President Hugo Chavez (R) and Syrian President Bashar al-Assad light candles during a visit to The Convent of our Lady Saydanaya in Damascus August 30, 2006. [Reuters]
Chavez's visit was the latest in a series of international stops where he has trumpeted his opposition to Washington's global influence and advanced what he calls a "multipolar" vision of world affairs. His trips also coincide with Venezuela's push to win a rotating seat on the U.N. Security Council, over U.S. opposition.
Venezuela, the United States' fifth-largest source of oil, has built close ties with Iran, Syria and other Mideast countries while its relations have grown tense with the U.S. and Israel. The U.S., meanwhile, has heavily criticized Syria for its involvement in Lebanon and cooperation with Hezbollah guerillas there.
"We want to cooperate to build a new world where states' and people's self-determination are respected," Chavez said after a 2 1/2-hour meeting with Assad at the presidential palace.
Speaking at Damascus airport on his arrival late Tuesday, Chavez said both countries agreed to stand up to the United States.
"We have the same political vision and we will resist together the American imperialist aggression," he said.
Pictures of Chavez and Assad lined the streets of downtown Damascus, and thousands of Syrians waved banners and Venezuelan flags along the route Chavez took to his meeting with Assad. The two leaders strolled down a red carpet leading into the People's Palace as a 21-gun salute was fired.
With both presidents looking on, delegates from the two countries signed a total of 13 political and economic agreements, and Assad said Damascus supports Caracas' candidacy to be a non-permanent member of the Security Council in 2007-8.
The Syrian leader thanked Chavez for his support for Middle Eastern nations, telling reporters that the leftist president had made "great stands" in support of Arab causes.
"We appreciate your sincere feelings toward the peoples who have their rights and are under occupation, as well as your sincere humanitarian and moral sentiments," Assad said through an interpreter.
Earlier this month, Chavez compared Israel's attacks on Hezbollah militants in Lebanon to the Holocaust and withdrew Venezuela's ambassador to the Jewish state. Israel responded by recalling its ambassador to Venezuela, criticizing what it called Chavez's "one-sided policy" and "wild slurs."
Asked about Chavez's visit to Syria, U.S. State Department spokesman Tom Casey said the leader should remind Damascus about its international obligations to prevent Hezbollah from receiving weapons.
"We think what's important for anyone having discussions with the Syrian government to do is to emphasize the need for Syria to meet its international obligations," Casey said.