Lebanon wants Indonesia to join U.N. force
JAKARTA - Lebanon wants Indonesian troops to take part in a U.N. peacekeeping force in the country's volatile south, a top Indonesian official said on Tuesday.

Indonesia, the world's most populous Muslim country, has offered 1,000 troops including a company of engineers as part of the U.N. mission to police a ceasefire in southern Lebanon after a month of war between Israel and Hizbollah guerrillas.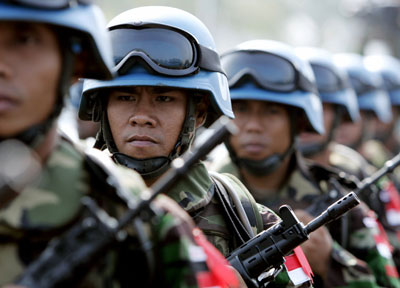 Indonesian soldiers stand during a military ceremony in the Cilodong district on the outskirts of Jakarta August 29, 2006. Indonesia's earlier offer of troops for the U.N. mission in Lebanon was stonewalled by Israel which said it wanted peacekeepers only from nations recognising the Jewish state, however it was now expected to get a green light from Israeli Prime Minister Ehud Olmert, U.N. sources said recently. [Reuters]
"The Lebanese prime minister has talked to the president twice requesting a contribution of Indonesian troops," chief security minister Widodo Adi Sutjipto told reporters.
Widodo said France, which is leading the U.N. force, had also conveyed the same message to President Susilo Bambang Yudhoyono.
The Indonesian troop deployment offer has faced opposition from Israel, which had said it wanted peacekeepers only from nations recognising the Jewish state, but its prime minister was now expected to relax that stance.
"On the Israeli stance, the U.N. should take steps to convince Israel to be rational in seeing the contribution of Indonesian peacekeeping troops. We will wait for the U.N. but essentially we are ready to go," Widodo said.
Indonesia has no diplomatic ties with Israel.
Yudhoyono received general parliamentary approval on the deployment plan late on Monday, but getting the budget for a mission could still be tricky even if Jakarta is invited to join.
Military commander Air Marshal Djoko Suyanto told a Jakarta radio network the operation could be costly as troops might stay in Lebanon for six months and the military would need to buy new armoured vehicles for the force.
However, Indonesian participation in the Lebanon mission is seen as key for Yudhoyono's stature due to the overwhelming domestic public opposition to recent Israeli military action.
Foreign Minister Hassan Wirajuda last week stressed the importance of Indonesian troops taking part in a peace mission to calm domestic anger over the Middle East violence and dissuade militants from trying to go to the region.
Militant groups in Indonesia have held a number of what they say are combat training sessions for recruits, often wearing camouflaged military fatigues and balaclavas, to fight Israel.
Officials have downplayed the threat from such groups, arguing the displays are more aimed at grabbing headlines.
Indonesia is among a number of predominantly Muslim countries to offer to send troops to Lebanon, including Malaysia and Turkey. The latter, which has good ties with Israel and the Arab states, agreed in principle to send troops after the United States, Israel and Lebanon urged Ankara to take part.