TOKYO - Japanese Foreign Minister Taro Aso officially announced his candidacy Monday to replace Prime Minister Junichiro Koizumi next month, despite polls that show him trailing far behind the front-runner, his office said.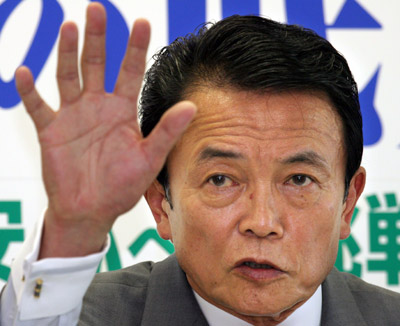 Japanese Foreign Minister Taro Aso speaks to reporters at the ruling Liberal Democratic Party (LDP) headquarters in Tokyo, August 21, 2006, as he makes a formal bid to run in September's LDP presidential election to succeed Prime Minister Junichiro Koizumi. [Reuters]
Aso is one of three likely candidates in the campaign for September 20 balloting to pick a new president of the ruling Liberal Democratic Party, a position that virtually guarantees the winner the premiership because the LDP controls Parliament.
Aso made the announcement at a meeting of his LDP faction, said his aide, Takashi Sasaki.
Koizumi, who took power in April 2001, has vowed to step down when his term as party president expires in September. He has not yet publicly thrown his support behind a particular candidate.
In a speech later Monday, Aso, a conservative, mapped out his policies, including economic and fiscal measures and educational reform.
Aso suggested lowering the elementary school enrollment age to 4 or 5 from the current 6 to enhance basic education, and proposed a plan to promote a sense of affluence through support for more comfortable housing, public broadcaster NHK reported. Homes in Japan are notoriously cramped.
"I've gathered strength since the last race for prime minister in 2001, and I'd like to use my experience as foreign minister, as well as home affairs minister and party policy affairs chairman," Aso said.
Aso, a grandson of the late Prime Minister Shigeru Yoshida, ran unsuccessfully against Koizumi for the LDP presidency in 2001.
Recent polls have portrayed Chief Cabinet Secretary Shinzo Abe, who is expected to officially announce his candidacy early next month, as the front-runner in the race, with a comfortable lead over Aso and Finance Minister Sadakazu Tanigaki.
In a survey released Monday by the business newspaper Nihon Keizai, 44 percent of the 891 voters who responded to the August 18-21 telephone poll favored Abe, with 6.4 percent supporting Tanigaki and 5.5 percent backing Aso.
Despite the tough prospects, Aso said he will hold out to the end.
"You never know the results until the ballot box is closed," Aso told a group of reporters outside his residence earlier Monday.
Aso, who became foreign minister following an LDP victory in lower house elections last September, has irked China with a series of provocative statements.
In one instance, he called China a military threat. He has also accused Beijing of using beautiful women as spies to lure Japanese diplomats into revealing classified information. He also credited Taiwan's high educational standards to Japanese colonial rule in the first half of the 20th century.
However, in recent weeks, he has taken a more cautious position over official visits to a Tokyo war shrine that honors Japanese war criminals among 2.5 million war dead and defends the nation's militaristic past.
Distancing himself from Abe's staunch support for Koizumi's repeated visits to Yasukuni Shrine, Aso has said he will hold off on visits to the shrine when he becomes prime minister and expressed a willingness to mend ties with Beijing and Seoul.
Aso has also proposed making the shrine a secular institution and putting it under the control of the state, allowing Parliament to decide who is honored there.
Koizumi worshipped at Yasukuni last Tuesday despite protests from China and South Korea, which see such visits as reflecting a Japanese lack of remorse over its wartime aggression.