Tehran - Iran on Sunday test-fired a surface-to-surface short-range missile a day after its army launched large-scale military exercises throughout the country, state-run television reported.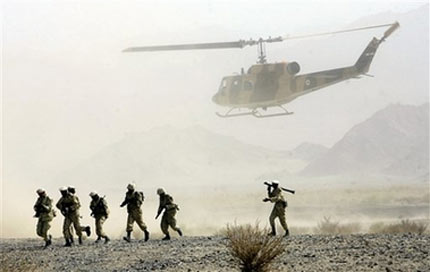 Iranian military forces run from the down-draft of a helicopter, during a training exercise in Zahedan, in the southeastern province of Sistan va Baluchistan, Iran, on Saturday Aug. 19, 2006. Iran on Saturday launched a series of large-scale military maneuvers aimed at introducing the country's new defensive doctrine, state-run television reported. [AP Photo]
"Saegheh, the missile, has a range of between 80 to 250 kilometers," the report said. It said the missile was tested in Kashan desert, about 150 miles southeast of Tehran, the capital.
Saegheh means lightning in Farsi.
Iran has routinely held war games over the past two decades to improve its combat readiness and to test equipment such as missiles, tanks and armored personnel carriers. But the new tests, in the wake of the Lebanon-Hezbollah fighting, seemed certain to create new tensions with the West.
State-run television said the missile was built based on domestic know-how.
State-run TV showed video showing 10 missiles being launched from mobile launching pads.
Iran said it launched the new military exercises Saturday to introduce a new defensive doctrine. They are being held in 14 of the country's 30 provinces and could last five weeks, the government has said.
The country, which views the United States as a foe, is concerned about the US military presence in neighboring Iraq and Afghanistan.
It also has expressed worry about Israeli threats to destroy its nuclear facilities, which the West contends could be used to make a bomb but which Iran insists are for civilian uses only.
Iran is already equipped with the Shahab-3 missile, which means "shooting star" in Farsi, and is capable of carrying a nuclear warhead. An upgraded version of the ballistic missile has a range of more than 1,200 miles and can reach Israel and US forces in the Middle East.
Last year, former Defense Minister Ali Shamkhani said Tehran had successfully tested a solid fuel motor for the Shahab-3, a technological breakthrough for the country's military.
Iran's military test-fired a series of missiles during large-scale war games in the Persian Gulf in March and April, including a missile it claimed was not detectable by radar that can use multiple warheads to hit several targets simultaneously.
After decades of relying on foreign weapons purchases, Iran's military has been working to boost its domestic production of armaments.
Since 1992, Iran has produced its own tanks, armored personnel carriers, missiles and a fighter plane, the government has said. It announced in early 2005 that it had begun production of torpedoes.