Vietnam tightens bird flu quarantine
(Reuters)
Updated: 2006-08-18 13:50
HANOI - Vietnam, which has been free of human bird flu cases this year, is tightening quarantine operations on its borders because of new outbreaks of the H5N1 virus in the region, state-run media said on Friday.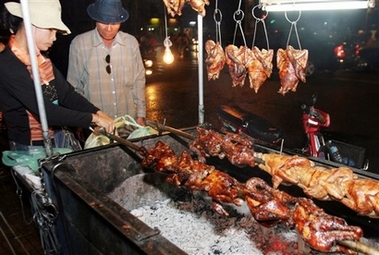 Cambodian vendors grill chickens on the roadside in capital Phnom Penh, Cambodia, Saturday, Aug. 12, 2006. Cambodia's Agriculture Ministry has confirmed a new outbreak of bird flu in poultry in the country's southeast, a ministry official said Saturday. The outbreak was the virulent H5N1 type of the virus. It was detected Friday in Prey Veng province, which borders Vietnam. The province is about 50 kilometers (30 miles) southeast of the capital Phnom Penh. [AP]
An H5 subtype avian flu virus resurfaced in Vietnam in the past month, mainly found in ducks and wild storks.
But the Southeast Asian country has had no poultry outbreaks or human infections of the H5N1 bird flu virus since December even as bird smuggling from China has risen.
Public health officials have told countries such as Vietnam that although the virus remains essentially an animal disease, it can return at any time and could spark a pandemic if it mutates into a form that can pass easily among people.
"The outbreak risk is very high because of the poultry smuggling in northern provinces while small-scale poultry trade in southern provinces have not been controlled," Deputy Health Minister Trinh Quan Huan said in an interview published on Thursday.
Official media said on Friday the Preventive Medicine Department of the Health Ministry has instructed medical establishments to intensify quarantine operations at border gates to help bird flu from recurring.
The virus has recurred in Thailand, Laos and China with which Vietnam shares land borders. The U.N.'s Food and Agriculture Organisation said outbreaks in Thailand and Laos were caused by a H5N1 strain previously not detected there and was similar to virus isolates from southern China.
Indonesia overtook Vietnam earlier this month as the country with the most human deaths by avian flu with 45. Vietnam has reported 42 deaths out of 93 human cases since the H5N1 virus re-emerged in Southeast Asia in late 2003.
Worldwide, 140 people have been killed out of 239 cases in nine countries, the U.N.'s World Health Organisation said.