Over the years, some experts suggested that investigators had botched the case so thoroughly that it might never be solved.

Investigators at one point said JonBenet's parents were under an "umbrella of suspicion" in the slaying. And some news accounts cast suspicion on JonBenet's older brother. But the Ramseys insisted an intruder killed their daughter, and no one was ever charged.

In the months after the slaying, Patsy Ramsey went before the cameras, vigorously defending herself and her husband, chastising the media and blasting local law enforcement as incompetent.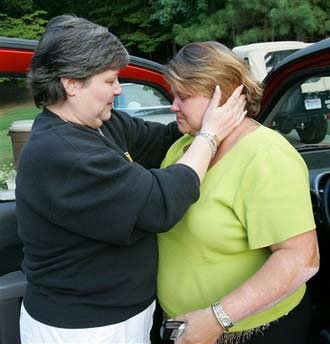 Pam Paugh, left, and Paulette Davis, sisters of Patsy Ramsey, hug in front of the family home in Roswell, Ga. Wednesday, Aug. 16, 2006 after hearing that a man was arrested in Thailand in connection with the 1996 slaying of their niece JonBenet Ramsey. Federal officials familiar with the case, who spoke on condition of anonymity, said the man was already being held in Bangkok on unrelated sex charges. [AP]

In a statement Wednesday, John Ramsey said: "Patsy was aware that authorities were close to making an arrest in the case, and had she lived to see this day, would no doubt have been as pleased as I am with today's development almost 10 years after our daughter's murder."

The Ramseys moved back to Atlanta after their daughter's slaying.

Wood lashed out at the frenzy that long surrounded the case, and he accused the media of "the most obscene false accusations." "I think the public's mind was so poisoned against this family that no one was able for too many years to look at the evidence," he said.

Patsy Ramsey's sister, Pam Paugh, of Roswell, Ga., said the family was celebrating the news of the arrest. "We are elated. We are elated. If this is, in fact, the killer, then we have a very heinous killer off the streets to never harm another child," Paugh said.

Lib Waters of Marietta, Ga., visited the gravesites of Patsy and JonBenet Ramsey in the Atlanta suburb immediately after hearing news reports about the arrest.

Waters, who described herself as a longtime friend of the Ramsey family, taped a piece of notebook paper to JonBenet Ramsey's headstone that read: "Dearest Patsy, Justice has come for you and Jon. Rest in peace."

In 2003, a federal judge in Atlanta concluded that the evidence she reviewed suggested an intruder killed JonBenet. That opinion came with the judge's decision to dismiss a libel and slander lawsuit against the Ramseys by a freelance journalist, whom the Ramseys had named as a suspect in their daughter's murder. The Boulder district attorney at the time said she agreed with the judge's declaration.

"Today is additional vindication of the family," Wood said.

Wood said he and the Ramseys "have been totally amazed and impressed with the professionalism of law enforcement" under Lacy's direction. Lacy became district attorney in 2001.

Lawrence Schiller, author of the 1999 book "Perfect Murder, Perfect Town" about the case, said Wednesday he understood the man had been on a list of sexual offenders who were suspects for a long time.

"There are a lot of facts about her actual death that the public does not know." Schiller said. "If he did confess to some facts of the murder, to reveal those facts of the case, that would finish the puzzle."

Among the facts he said were not generally known was the murder weapon and what the killer did with it.

DNA was found beneath JonBenet's fingernails and inside her underwear, but Wood said two years ago that detectives were unable to match it to anyone in an FBI database. It was not immediately known Wednesday whether investigators had any DNA evidence against Karr.

Bob Grant, a former Adams County district attorney who worked on the case, said there was never enough evidence to convince him that any potential suspect could be successfully prosecuted.

"I wasn't convinced it was an inside job, nor was I convinced it was an outside job," he said. "All the outside suspects were cleared after exhaustive investigation, and there were a whole lot of outside suspects."



| | | |
| --- | --- | --- |
| | 1 | 2 |