BEIRUT, Lebanon - More Israeli troops surged into southern Lebanon on Saturday, reaching the Litani River and engaging in some of the heaviest combat of the monthlong war just hours after the U.N. Security Council adopted a cease-fire plan. Israel lost 19 soldiers ¡ª its highest one-day toll.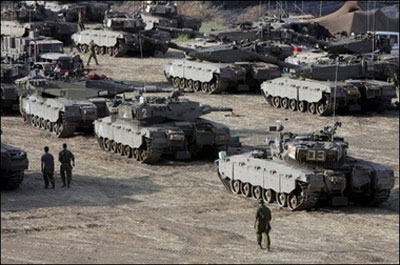 Israeli tanks sit at a staging ground for military armored vehicles close to the northern Israel-Lebanon border. Fierce clashes between Hezbollah militants and Israeli troops continued through the night southeast of the southern Lebanese port city of Tyre in the region near the border with Israel. [AFP]
The leader of the Islamic militant group Hezbollah grudgingly joined Lebanon's government in accepting the U.N. resolution but vowed to keep fighting until Israeli troops leave and hand over territory to a muscular U.N. peacekeeping force intended to separate the antagonists.
Israel also signaled its intention to approve the plan, at a Cabinet meeting Sunday, and a senior official predicted fighting would stop Monday morning, but there was no slowing in the bloodshed.
U.N. Secretary-General Kofi Annan announced that a cease-fire would take effect at 8 a.m. Beirut time Monday (1 a.m. EDT), saying both Israeli and Lebanese leaders agreed to the start time. In his statement issued in New York, Annan called for an immediate halt to the fighting.
Israel was determined to batter Hezbollah until the end, while the guerrillas seemed to be fighting as fiercely as ever after a month of intense Israeli air, artillery and ground assaults. Israeli warplanes struck targets in northern, southern and eastern Lebanon early Sunday.
Israel's military said 19 soldiers killed, five more were missing and more than 70 were wounded in the first day of the expanded offensive Saturday. The broadened push tripled troop strength to 30,000 in southern Lebanon. Israel Radio reported 100 troops wounded, which if confirmed would be the Jewish state's highest one-day injury toll of the fighting.
Israel confirmed that guerrillas shot down a military transport helicopter in the south Saturday and the five people aboard, all crew members, were missing and feared dead. Hezbollah said a battle raged for hours as Israel attempted to reach the crew, but there were no details of that fighting. Hezbollah claimed to destroy 21 tanks.
Israel said it killed more than 40 Hezbollah fighters. Hezbollah issued a statement saying three of its fighters had been killed but gave no date.
Nineteen Lebanese civilians died from Israeli airstrikes Saturday, while Hezbollah rockets wounded eight people in northern Israel. The 32-day struggle has claimed nearly 900 lives ¡ª including at least 763 in Lebanon and 130 in Israel.