TOKYO -- Protesters hit Tokyo's streets for a second-straight day Saturday rallying against a war shrine reviled by critics for glorifying Japan's military conquests, as emotions build to the upcoming anniversary of Japan's World War II surrender.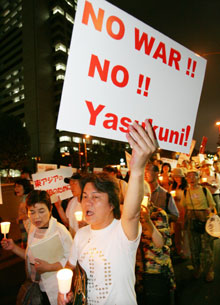 A protester holding a placard shouts slogans during a candlelight march in Tokyo August 11, 2006 demanding Japanese Prime Minister Junichiro Koizumi to stop visiting the Yasukuni Shrine. [Reuters]
Holding candles and enlarged photos of Japanese war atrocities, about 200 demonstrators marched through the capital's streets chanting for Japan to repent more sincerely for its invasion and occupation of Asia in the early 20th century.
The rally followed a similar candlelight vigil on Friday and comes amid mounting expectations Prime Minister Junichiro Koizumi will pilgrimage to Tokyo's Yasukuni Shrine on August 15, a sensitive date marking the end of World War II in Asia.
Such a visit would likely be Koizumi's last as prime minister before he steps down next month. It would likely worsen already strained relations with Asian neighbors such as China and South Korea, which have repeatedly condemned the trips.
"Koizumi don't go!" chanted the demonstrators, who were assembled from Japan, South Korea and China's Taiwan Island.
Others carried placards saying "No War! No Yasukuni!" A contingent of about 50 Chinese protesters hoisted grainy black and white photos of Japanese wartime brutalities such as the beheading of captives.
Some demonstrators called for the destruction of Yasukuni Shrine, others wanted the shrine to remove names of relatives who have been enshrined there among 2.5 million war dead and 14 executed war criminals who executed Japan's conquests.
"They didn't even ask the family members if we would agree," complained Lee Hee Ja, a 63-year-old South Korean whose father was drafted into Japan's Imperial Army in 1943 and killed in China two years later.
Today he is among the martyears honored at Yasukuni, despite Lee's repeated requests that the shrine "free his soul." She is currently a plaintiff in a lawsuit against Yasukuni demanding that his name be stricken.
The protests will build to another candlelight rally on Monday night that organizers are hoping will attract thousands.
Koizumi has been dropping repeated hints in recent weeks that he will pray at Yasukuni the next day. While that would be his sixth visit since taking office in 2001, he has never gone on August 15.
Koizumi insists his pilgrimages reaffirm Japan's commitment to peace and console the souls for those who died for the country.
But the shrine played a high-profile role in promoting wartime nationalism, with Japanese soldiers commonly pledging to fight to the death with the promise to "meet at Yasukuni." It also hosts a museum attempting to justify Japan's militarist past.
"It is a war shrine, not a peace shrine," demonstrator Yeonghwan Kim said Saturday. "I find it ironic that Koizumi says he goes there to pray for peace. It's just another symbol that Japan is back on the road to militarism."
Yasukuni has been a flash point of relations with China, which has refused top-level talks since Koizumi's last visit in October. Now it is also becoming an issue in the race to succeed Koizumi as prime minister.
Chief Cabinet Secretary Shinzo Abe, considered the front-runner to succeed Koizumi, has supported his visits and reportedly went to the shrine secretly earlier this year. He has refused to confirm those reports or say whether he would as prime minister.
But many in Japan oppose his visits, which have triggered a stream of lawsuits, and public opinion is deeply split.