TOKYO -- Shinzo Abe, Japan's conservative chief Cabinet secretary known for hawkish views on China and North Korea, expressed his intention Saturday to replace Prime Minister Junichiro Koizumi in an election next month, ending weeks of speculation over his plans.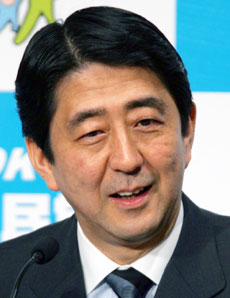 Japanese Chief Cabinet Secretary Shinzo Abe speaks during a panel discussion at the Tokyo Political and Economic Forum hosted by the ruling Liberal Democratic Party in Tokyo in this July 28, 2006 photo. [Reuters]
Addressing supporters in the western prefecture of Yamaguchi, Abe said he would run in the September 20 balloting to pick a new president for the ruling Liberal Democratic Party, a position that would virtually guarantee him the premiership because the LDP controls Parliament. He said he will detail his candidacy and platform early next month.
"I will do my best with a firm ambition," Abe said.
The entry into the race by the telegenic 51-year-old, who recently published a political book titled "Toward a Beautiful Country," comes amid repeated public opinion polls showing him to be the favorite to replace Koizumi. Yet Abe's ascent could rile some Asian neighbors, which frown on his nationalist views and his support for a Tokyo war shrine seen as glorifying Japan's militaristic past.
Koizumi, who assumed the post in 2001 and is one of Japan's most popular and longest-serving prime ministers, has said he will not seek re-election in the September 20 LDP balloting. Abe, a grandson of wartime Cabinet member and postwar Prime Minister Nobusuke Kishi, is currently the chief spokesman for Koizumi's administration.
Aside from Abe, Finance Minister Sadakazu Tanigaki has also announced his intention to run. Foreign Minister Taro Aso is also expected to announce his candidacy. But Abe leads all contenders in popularity polls.
Kyodo News agency and public broadcaster NHK said Abe would formally announce his platform on September 1.
Some of Abe's recent activities may be tailored to soften his hard-liner image. Among the media appearances was a prime-time comedy show in which he showed off his archery skills. In his book, Abe discusses world politics but also critiques the Hollywood movie "Million Dollar Baby" and France's World Cup team.
But some see his foreign policy views as unwanted baggage at a time when Japan's relations with neighboring countries are at their lowest in years because of territorial rows, disputes over natural resources and differences over World War II history.
Relations with China, for example, a top Japanese trade partner and economic powerhouse, have been hurt by Koizumi's repeated visits to Yasukuni Shrine, which has close links to Japan's past militarism.
Abe, who has visited Yasukuni in the past, has staunchly supported Koizumi's pilgrimages, though he has not said whether he would worship there as prime minister.
Yasukuni honors Japan's 2.5 million war dead, including war criminals executed after World War II, and Beijing has refused top-level talks since Koizumi's last visit in October, accusing him of glorifying Japan's militaristic past.
Abe has also been on the front lines of criticizing North Korea, taking a high-profile position against its recent missile tests and nuclear arms ambitions as well as its past abduction of Japanese citizens to train communist spies.