MARJAYOUN, Lebanon - Israeli warplanes and artillery pounded Hezbollah positions Friday in an attempt to gain command of strategic high ground and disrupt guerrilla rocket attacks. In far north Lebanon, Israeli jets blasted a key bridge to Syria, killing at least 12 people.
The conflict for the first time touched the entire length of Lebanon - from skirmishes on the Israeli border in the south to the northern border about 100 miles away - and sent the message that no place was safe from the widening Israeli attacks.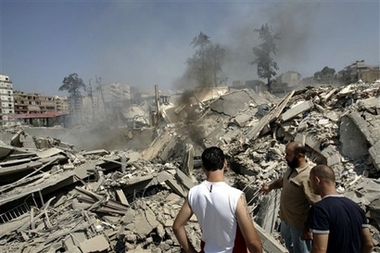 Lebanese gather at a destroyed apartment building following an Israeli airstrike early Friday, among the rubble of other collapsed buildings, in the Hezbollah stronghold suburbs of Beirut, Lebanon, Friday, Aug. 11, 2006. Powerful explosions resounded across Beirut early Friday, and local media reports said Israeli jets were pounding Hezbollah strongholds in the southern Dahieh suburb. [AP]
But Hezbollah delivered a similar statement to northern Israel with another barrage of more than 150 rockets, it said. There were no immediate reports of casualties.
U.N. diplomats held out hope that an end could be in sight. Negotiators reported progress on a cease-fire plan that has been stuck over a timetable for an Israeli withdrawal. America's ambassador to the UN, John Bolton, said a vote was possible Friday.
Israel has delayed a major new ground offensive to give diplomacy some room. But officials warned that they would unleash the fresh infantry forces if the talks fail.
The most severe fighting continued around Marjayoun, an important hub just north of Israel's Galilee panhandle that juts into Lebanon. An Associated Press reporter briefly entered the embattled city and witnessed intense Israeli bombardment of dug-in Hezbollah fighters.
The city, which is mostly Christian, is crucial because it gives Israeli gunners a view of the Litani River Valley and other areas used as launching grounds for Hezbollah rockets. Israeli tanks rolled into Marjayoun on Thursday after coming under sustained Hezbollah ambushes along the way.
Lebanese Interior Minister Ahmed Fatfat told The Associated Press Thursday the Lebanese soldiers and police garrisoned in the town were taken into custody.
But an Israel military spokeswoman said the people left in the city - soldiers, police and refugees - were only advised to remain there for their own safety.
"Nobody has been taken prisoner," she said, declining to be identified because military rules did not allow her to make public comments.