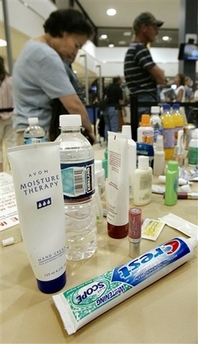 A woman looks through her carry-on bag for items that are not allowed to be taken on the aircraft while standing next to a table of banned products that travelers have already discarded Thursday, Aug. 10, 2006, in Salt Lake City. Airline passengers around the country stood in line for hours and airport trash bins bulged with everything from mouthwash and shaving cream to maple syrup and fine wine Thursday in a security crackdown prompted by the discovery of a terror plot in Britain. [AP]
New Delhi - The US Embassy in India's capital warned Friday that foreign militants, possibly al-Qaida members, may be planning to carry out bombings in two major Indian cities in the coming days.
An e-mail sent to American citizens registered with the embassy said New Delhi, the capital, and Bombay, the country's financial and entertainment hub, were the targets of the alleged plot, and that the attacks were believed to be planned around India's Independence Day, which falls on Aug. 15.
The embassy confirmed that it had sent the e-mail, and the chief secretary of India's Maharshtra state, where Bombay is located, confirmed that authorities had intelligence about a possible terror plot.
But the chief secretary, D.K. Sankaran, refused to provide additional details, saying only that "adequate security measures are being taken at sensitive installations, offices and areas."
Word of the alleged plot came a day after British police said they had thwarted another terrorist plot, possibly just days away, to blow up US-bound jetliners over the Atlantic.
Investigators described a plan on the scale of the Sept. 11 attacks that would use common electronic devices to detonate liquid explosives to bring down as many as 10 planes in near-simultaneous strikes.
The US Embassy's warning for India said the "likely targets include major airports, key central Indian government offices, and major gathering places such as hotels and markets."
It urged American citizens to maintain a low profile, and be alert and attentive to their surroundings between Aug. 11 and Aug. 16.
Security around India has already been beefed up because of the coming Independence Day celebrations, a time of year when militants from the country's myriad regional separatist movements often launch attacks.
The alleged plot appeared tied to Independence Day and not the reported plan to blow up airliners over the Atlantic.
Although neither US nor Indian officials would explain the source of their intelligence reports, the Press Trust of India reported Friday that police in New Delhi had arrested two members of a Pakistani Islamic militant group suspected in a string of bombings in India, including last month's attacks on Bombay's commuter trains, which killed 207 people.
The news agency said the arresting officers believed they had foiled a terror plot by the Pakistan-based group Lashkar-e-Tayyaba, which is believed to have ties to al-Qaida.
One of the two alleged Lashkar-e-Taiba militants arrested is Pakistani, and both were arrested late Thursday with 4.4 pounds of a powerful explosive known as RDX, and a huge quantity of other ammunition, PTI reported. They were nabbed at New Delhi's train station.
The Pakistani was identified only as Anaz, a native of Islamabad, and the other man as Abrar Ahmed, from the northern Indian state of Uttar Pradesh, PTI said.