JERUSALEM - Israel will hold back on its new ground offensive in Lebanon until the weekend to give cease-fire efforts another chance, senior officials said Thursday, a day after the government approved a major expansion of the monthlong war.
But prospects for a quick cease-fire resolution by the UN Security Council were uncertain, with the United States and France still divided over a timetable for an Israeli withdrawal from Lebanon.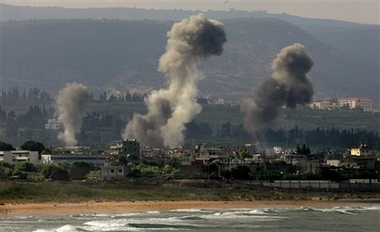 Smoke rises from Israeli bombardment in the village of Ras Al EIn, south of the port city of Tyre, Lebanon, Thursday, Aug. 10, 2006. Israeli ground forces took control of a key southern Lebanese town and claimed strategic hilltop positions Thursday in a push to widen its hold on border areas before a possible drive deeper into the country. [AP]
Israeli missiles hit Beirut proper for the first time, damaging a historic lighthouse. Warplanes also dropped leaflets over downtown Beirut, urging residents of three southern suburbs to leave the area. More leaflets were scattered over northern Lebanon, warning trucks off a coastal road linking Lebanon to Syria.
Hezbollah claimed it destroyed 13 Israeli tanks in south Lebanon. The Israeli military declined comment. On Wednesday, 15 Israeli soldiers were killed in Lebanon, the deadliest day for Israeli soldiers in the war.
Hezbollah rockets killed a woman and her young daughter, a toddler, in the Israeli Arab village of Deir el Assad, medics said.
The deeper push into Lebanon was approved Wednesday by Israel's Security Cabinet, but a senior government official said Thursday that Prime Minister Ehud Olmert has decided to delay the offensive until the weekend.
The campaign could begin earlier if Hezbollah launches a major attack on Israel, the official said, speaking on condition of anonymity because he is not authorized to discuss the issue with reporters.
Cabinet minister Rafi Eitan confirmed the government's decision to wait.
"There are diplomatic considerations," he told Israel Radio, when asked about a planned delay. "There is still a chance that an international force will arrive in the area. We have no interest in being in south Lebanon. We have an interest in peace on our borders."
The government's conduct of the war was coming under growing criticism at home.
The army has failed to make a dent in Hezbollah's ability to fire rockets at Israel ¡ª the guerrillas fired 170 on Wednesday, for a war total of more than 3,500 ¡ª and critics said pushing deeper into Lebanon would not stop such attacks since longer-range rockets can still reach Israel.