JERUSALEM - Israel approved a massive new ground offensive into southern Lebanon in an effort Wednesday to inflict further damage on Hezbollah and halt most rocket attacks before the U.N. Security Council demands a cease-fire.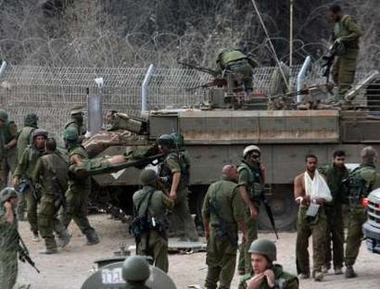 Israeli troops transport injured soldiers to be evacuated from the Israel-Lebanon border August 9, 2006. [Reuters]
The decision came on the deadliest day of the war for Israeli troops in Lebanon, with 15 soldiers killed. It coincided with mounting demands from the international community for both sides to halt the fighting, which has killed at least 829 people.
The plan to force Hezbollah guerrillas and their short-range rockets out of southern Lebanon and past the Litani River would escalate the fierce fighting there and, if successful, leave Israel in control of a security zone that it evacuated six years ago after a bloody 18-year occupation.
A new Israeli offensive would also put tremendous pressure on the United Nations to agree quickly on a cease-fire to end the fighting that has caused widespread destruction across southern Lebanon and forced hundreds of thousands of Israelis into bomb shelters. Israeli officials implied they would halt the new offensive if a cease-fire agreement removes Hezbollah from the border.
In a televised speech, Hezbollah's leader taunted the Israelis.
"If you enter our land, we will throw you out by force and we will turn the land of our invaluable south into your graveyard," Sheik Hassan Nasrallah said. "We will be waiting for you at every village, at every valley. Thousands of courageous holy warriors are waiting for you."
The White House said Wednesday neither Israel nor Hezbollah should escalate their war. Press secretary Tony Snow said the U.S. message was for both sides.
Diplomatic efforts to reach a quick U.N. resolution faltered over differences between Washington and Paris on an Israeli withdrawal from southern Lebanon. France backed Lebanon's call for Israeli troops to pull out once hostilities end, while the United States supported Israel's insistence on staying until a robust international force is deployed. Lebanon has offered to send troops to patrol the border region.
French President Jacques Chirac appealed for rapid agreement.
"The most immoral of solutions would be to accept the current situation and give up on an immediate cease-fire," he said.
Nasrallah rejected a draft U.N. resolution that would temporarily let Israeli troops remain in south Lebanon and take defensive action.
"The least we can describe this (draft resolution) is as unfair and unjust. It has given Israel more than it wanted and more than it was looking for," he said. He also signaled Hezbollah's intention to step up attacks, calling on Israeli Arabs to leave the northern city of Haifa so Hezbollah could pound it with rockets and not worry about killing fellow Muslims.
Israeli officials said their new offensive was meant to run parallel to the cease-fire talks.
"Israel is still working for a diplomatic solution, preferably in the Security Council," said Isaac Herzog, a member of Israel's Security Cabinet, which voted Wednesday to approve the new ground offensive. "We cannot wait forever, we have a million civilians living in bomb shelters, and we have to protect them."
Other officials said privately that the offensive was aimed at pushing the Security Council to take fast action, as well as to clear Hezbollah from south Lebanon.
"The Israeli decision today is taken in absence of concrete steps by the international community to deal with the situation in Lebanon. Such steps would of course make an Israeli military operation superfluous," Foreign Ministry spokesman Mark Regev said. "Israel understands fully that the real solution is diplomatic."
A minister in Israel's Security Cabinet said the offensive might not begin for two or three days to give more time to cease-fire talks, but senior military officials said the operation could begin very quickly.