BEIRUT, Lebanon - Battles between Israeli forces and Hezbollah guerrillas raged Tuesday across southern Lebanon as diplomats at the United Nations struggled to keep a peace plan from collapsing over Arab demands for an immediate Israeli withdrawal.
Military planners in Jerusalem, meanwhile, said they plan to push even deeper into Lebanon to target rocket sites.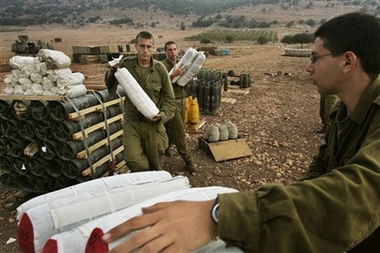 Israeli soldiers place bags of gunpowder used for artillery shells at a position in northern Israel, Tuesday, Aug. 8, 2006. Israel will press ahead with its war on Hezbollah and is poised to occupy more areas of south Lebanon from which rockets are fired, Israel's defense minister said Tuesday. [AP]
Attempts to negotiate a cease-fire have come down to a step-by-step proposal backed by Washington and Lebanon's insistence - supported by Arab nations - that nothing can happen before Israeli soldiers leave the country. Arab diplomats and UN Security Council members were to meet later Tuesday at the UN in New York to try to hammer out a compromise.
Lebanon has also put an offer on the table, pledging up to 15,000 troops to a peacekeeping mission in southern Lebanon after Israel pulls back. The plan had added significance since it was backed by the two Hezbollah members on Lebanon's Cabinet - apparently showing a willingness for a pact by the Islamic militants and their main sponsors, Iran and Syria.
Israel's prime minister, Ehud Olmert, on Tuesday called the proposed Lebanese troop deployment "interesting" and said Israel would favor leaving southern Lebanon once it considers that Hezbollah is no longer a direct threat.
But the rocky hills of southern Lebanon provided a different picture. Ground fighting continued to rage in villages and strategic ridges near the Israeli border, including sites used by Hezbollah for rocket barrages that have reached deep into Israel.
Fierce skirmishes broke out around the village of Bint Jbail, a Hezbollah stronghold that Israel has tried to control for weeks. An Israeli solider and 15 Hezbollah guerrillas were killed in the fighting, the army said. The militant group was not immediately available for comment.
Hezbollah TV also reported pre-dawn attacks on Israeli forces near the Mediterranean city of Naqoura, about 2 1/2 miles north of the border. The report claimed there were Israeli casualties.
The Israeli army confirmed clashes and casualties in western Lebanon, but did not say whether it or Hezbollah had suffered losses.
Israel also expanded airstrikes around Lebanon, including the Hezbollah heartland in the Bekka Valley.