BEIRUT, Lebanon - The Lebanese prime minister rejected a U.N. cease-fire plan backed by US President Bush, demanding on Monday that Israel immediately pull out from southern Lebanon even before a peacekeeping force arrives to act as a buffer between Hezbollah and the Jewish state.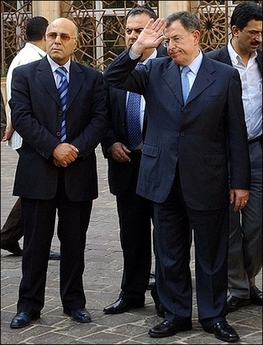 Lebanese Prime Minister Fuad Siniora (R) waves to Arab foreign ministers as they leave following their meeting in Beirut, while Education Minister Khaled Qabbani (L) and Health Minister Mohammed Khalefeh stand next to him. Siniora won the backing of Arab foreign ministers for his plan to end the conflict between Hezbollah and Israel, amid strong opposition from the Lebanese government to a UN draft resolution seeking to halt the violence.[AFP]
Prime Minister Fuad Saniora's stand, delivered in a tearful speech to Arab foreign ministers, came on a day in which 49 Lebanese were killed, one of the deadliest days for Lebanese in nearly four weeks of fighting.
His Cabinet, which includes two Hezbollah ministers, voted unanimously to send 15,000 troops to stand between Israel and Hezbollah should a cease-fire take hold and Israeli forces withdraw south of the border. The move was an attempt to show that Lebanon has the will and ability to assert control over its south, which is run by Hezbollah, the powerful Shiite Muslim militia backed by Syria and Iran.
In Texas, Bush said any cease-fire must prevent Hezbollah from strengthening its grip in southern Lebanon, asserting "it's time to address root causes of problems." He urged the United Nations to work quickly to approve a U.S.-French draft resolution to stop the hostilities.
Clashes between Israel and Hezbollah have sharply intensified in recent days as cease-fire diplomacy gains traction after nearly a month of unproductive talks. The cease-fire plan now under scrutiny at the United Nations has drawn only lukewarm support in Israel and vilification in the Arab world. Neither Israel nor Hezbollah has found an incentive to stop fighting, and both may be trying to gain advantage on the ground before a cease-fire.
At least 52 people died Monday on both sides. Hezbollah fired 160 rockets, wounding five Israelis, police and rescue services said. Three Israeli soldiers were killed in combat in south Lebanon, the first in an exchange of fire with Hezbollah fighters and the two others by an anti-tank missile, the Israeli army said.
With Arab League foreign ministers assembled around a horseshoe table, the embattled Lebanese leader repeatedly interrupted his opening address to gather his composure and wipe away tears. The foreign ministers cast their eyes downward in apparent embarrassment.
But Saniora's impassioned appeal did not change minds in Israel, where hospitals in the war zone were working around the clock and under rocket fire to protect patients from harm - in some cases moving them into a basement. The defense minister threatened an expanded ground operation if diplomacy does not produce results soon.
"I gave an order that, if within the coming days the diplomatic process does not reach a conclusion, Israeli forces will carry out the operations necessary to take control of rocket launching sites wherever they are," Israeli Defense Minister Amir Peretz said.
Justice Minister Haim Ramon said Israel could not withdraw before the arrival of an international force. "The moment we leave, Hezbollah will return."