Israel hits hard but suffers 15 deaths
(AP)
Updated: 2006-08-07 08:55
KFAR GILADI, Israel - A defiant Hezbollah pounded northern Israel with rockets Sunday after rejecting a U.S.-French truce proposal, killing at least 15 people. Israel also struck hard, killing 14 in Lebanon as both sides tried to take advantage of the days before a U.N. resolution is put to a vote.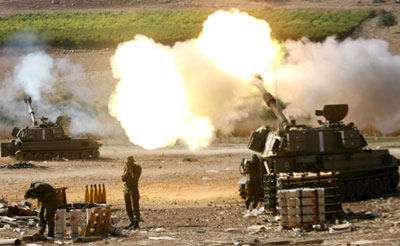 Israeli soldiers stand behind 155mm mobile artillery firing into southern Lebanon, from a position on the Israeli-Lebanese border August 6, 2006. Hizbollah killed 11 Israeli soldiers on Sunday in its deadliest rocket strike yet and Israeli bombs killed 18 Lebanese civilians as Lebanon rejected a draft U.N. resolution to end the 26-day-old war. [Reuters]
In the deadliest attack on Israelis in this war, a rocket landed Sunday among reservists near the entrance to the communal farm of Kfar Giladi on the Lebanese border. It killed 12 soldiers heading for battle in Lebanon and wounded five, hospital officials said.
Hezbollah rockets also hit Haifa, Israel's third-largest city, killing three civilians and wounding dozens. Flames shot from damaged homes as firefighters tried to rescue panicked residents.
In Lebanon, the dead included five members of one family crushed in their home by an Israeli air strike. Warplanes attacked near Beirut and in the south, where some villages were bombed continually for a half-hour, security officials said.
The fighting has intensified since the U.S. and France proposed a cease-fire resolution on Saturday which could soon be put to a vote in the U.N. Security Council. Both sides seem intent on inflicting maximum damage on each other before the vote.
Hezbollah and its chief allies, Iran and Syria, rejected the draft resolution because it does not call for an immediate Israeli withdrawal from Lebanon and does not address other Lebanese demands.
Mohammed Fneish, one of two Hezbollah members of the Lebanese Cabinet, said Saturday the militant group would not abide by a cease-fire resolution while Israeli troops remain on Lebanese territory.
Some 10,000 Israeli soldiers are fighting several hundred Hezbollah gunmen in that area, trying to track and destroy rocket launchers. Israel says it won't leave until a multinational force has been deployed.