Olmert favours Germans in Lebanon force
(Reuters)
Updated: 2006-08-04 15:45
BERLIN - Israeli Prime Minister Ehud Olmert would welcome the participation of German soldiers in a stabilisation force in South Lebanon, he said in an interview with a German newspaper on Friday. "I have informed (German) Chancellor Angela Merkel that we have absolutely no problem having German troops in South Lebanon," Olmert told the daily Sueddeutsche Zeitung.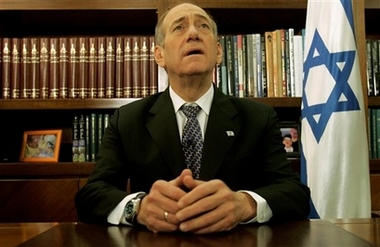 Israeli Prime Minister Ehud Olmert is seen during an interview with The Associated Press at his office in Jerusalem Wednesday Aug. 2, 2006. Prime Minister Ehud Olmert ignited a political firestorm by linking the conflict in Lebanon to his plan to withdraw from much of the West Bank. [Reuters]
"There is no other nation that Israel considers more of a friend that Germany ... I would be very happy if Germany participated," he said.
The German government has not ruled out sending troops to the Middle East but many citizens are uneasy about sending soldiers to the region some 60 years after the Holocaust.