KOLKATA, India - Health workers have launched a new drive to round up thousands of stray dogs in India's West Bengal state to counter rabies, with concern rising because of a shortage of vaccine.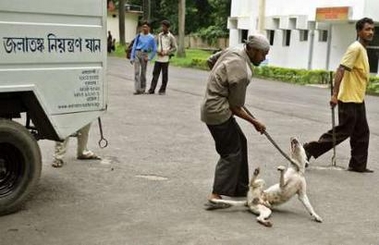 A member of People for Animals, a non-government organisation (NGO), catches a stray dog in the eastern Indian city of Kolkata July 18, 2006. Hundreds of health workers armed with nets and tongs are out on a mission to catch thousands of stray dogs from the streets of Kolkata and districts as West Bengal and rest of India reels under an acute scarcity of anti-rabies vaccine. Picture taken July 18, 2006. [Reuters]
In West Bengal alone, over 40,000 people go to government hospitals every year after being bitten by dogs, but few complete the required course of treatment -- partly because vaccines are in short supply, officials say.
"We are left with no option but to control the dog population as rabies is spiralling out of control and no vaccines are available to treat thousands of victims," said K.C. Barui, the director of health services in the eastern state.
India reports at least 20,500 deaths from rabies every year out of 50,000 fatalities globally, WHO data shows. But experts say many deaths go unreported.
Poor people cannot afford to buy vaccines, which cost around 1,500 rupees ($32) for a full course from private hospitals and chemists.
In towns and cities across India, stray dogs are a common sight and often chase pedestrians, cyclists and cars.
Kolkata alone is home to over 100,000 street dogs of which 65,000 are potential carriers of the rabies virus, officials say, adding that an 80 percent shortfall of anti-rabies vaccines in West Bengal reflects a similar situation in other parts of India.
"Controlling the dog population by vasectomy and isolating rabid dogs seems to be the only way out for India now," Prabhakar Chatterjee, a senior WHO official, said in Kolkata, the capital of West Bengal state.
Animal welfare groups say they are hardpressed.
"Our team of workers are hardly getting any sleep as we are catching dogs all the time," said Debasis Chakravarti, founder of the Compassionate Crusaders Trust (CCT).
He added that the CCT gets hundreds of calls a week from frantic residents in Kolkata asking for help after being bitten by a dog.
If a person does not start the vaccination process within hours of a dog bite, they can die of rabies within days or weeks.