Yushchenko nominates Yanukovych to be PM
(AP)
Updated: 2006-08-03 08:29
KIEV, Ukraine - Ukrainian President Viktor Yushcheno said Thursday that he is nominating his former Orange Revolution foe, Viktor Yanukovych, to become prime minister.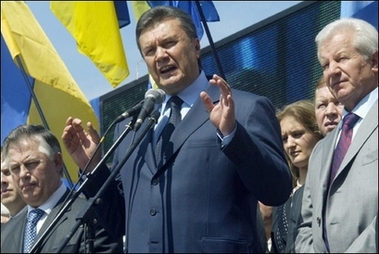 Viktor Yanukovich (C) speaks while other leader of pro-Moscow majority in Ukraine's parliament listens during a rally in front of parliament building in Kiev. Ukraine President Viktor Yushchenko has said that talks with his rival Yanukovych had broken down, bringing efforts to resolve a four-month political crisis to a standstill.[AFP]
Yushchenko made the announcement in an early morning address, two hours after the deadline formally passed for him to decide on Yanukovych's candidacy. He said the decision was made after Yanukovych agreed to sign a memorandum on national unity that preserves the president's foreign and domestic policies.
"We have another chance to unite Ukraine today," Yushchenko said.