Fidel Castro said Tuesday that his health was stable after surgery, according to a statement read on state television.

Castro, who temporarily handed power to his younger brother Raul on Monday night after undergoing intestinal surgery, indicated the surgery was serious when he said: "I can not make up positive news."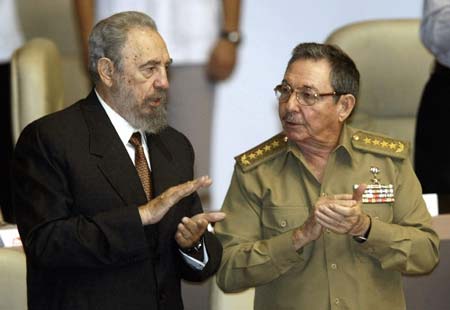 Cuba's President Fidel Castro (L) speaks to his brother Raul during an event in Havana in this July 1, 2004 file photo. Castro underwent intestinal surgery on July 31, 2006 and delegated government functions provisionally to his younger brother Raul, the government said in a televised statement signed by the Cuban leader. [Reuters]
But he said his health was "stable," and "as for my spirits, I feel perfectly fine," according to the statement read by moderator Randy Alonso on a daily public affairs program.
Castro expressed his gratitude for the good wishes he received from leaders, including Chinese President Hu Jintao, and supporters around the world, and called on Cubans to remain calm and maintain their daily routines.
"The country is prepared for its defense," he said in the statement. "Everyone needs to struggle, and work."
Castro's comments came after Parliament Speaker Ricardo Alarcon dismissed suspicions among anti-Castro exiles that the Cuban leader was dead, said the president's "final moment is still very far away."
"Everything's normal here - for the moment," said hospital worker Emilio Garcia, 41, waiting for a friend at a Havana hotel. "But we've never experienced this before - it's like a small test of how things could be without Fidel."
Alarcon rejected the notion that Castro's condition could be critical. He told the Prensa Latina news service that the Cuban leader is known for fighting to the very end, but said his "final moment is still very far away."
He called on Cubans to unite and follow the example of Castro, who "watches over every detail and takes measures to confront any enemy aggression."
The main newscast on state-run TV gave no details of the 79-year-old leader's condition, but ran a string of man-on-the-street interviews with Cubans wishing him well and professing confidence in the revolution's staying power. The anchor said Castro had the people's "unconditional support."
It was unknown when or where the surgery took place or where Castro was recovering. Alarcon called the surgery a "delicate operation" but provided no details.
The Venezuelan government, Cuba's closest ally, said Cuban officials reported Castro was "advancing positively" and leftist Argentine lawmaker Miguel Bonasso said Castro aides told him the leader was resting peacefully.