JERUSALEM - Israel's prime minister declared Monday that there would be no cease-fire with Hezbollah guerrillas, apologizing for the deaths of Lebanese civilians but saying "we will not give up on our goal to live a life free of terror." His Security Cabinet approved widening the ground offensive.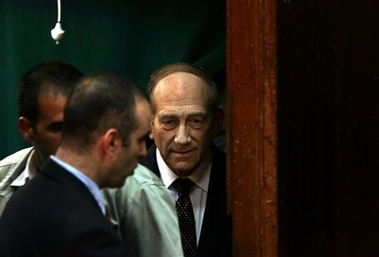 Israeli Prime Minister Ehud Olmert arrives at a conference in Tel Aviv, Israel, Monday, July 31, 2006. Olmert apologized Monday for the dozens of civilians killed in an Israeli airstrike in the Lebanese town of Qana, but said that no cease-fire would be forthcoming in Israel's 20-day battle with Hezbollah guerrillas in southern Lebanon. [AP]
Israeli warplanes hit Hezbollah fighters battling with soldiers near the border as the guerrillas fired mortars into Israel. But an Israeli suspension of most airstrikes in Lebanon, and a pause by the guerrillas on rocket attacks in northern Israel brought both countries their quietest day since the conflict began three weeks ago.
Lebanese fled north in overflowing trucks and cars. About 200 people, mostly elderly escaped the border town of Bint Jbail, where Israeli troops and Hezbollah guerrillas fought their bloodiest clashes. Two residents dropped dead on the road out, one of malnutrition, the other of heart failure.
Some survivors described living on a piece of candy a day and dirty water as the fighting raged.
"All the time I thought of death," said Rimah Bazzi, an American visiting from Dearborn, Mich., who spent weeks hiding with her three children and mother in the house of a local doctor.
The lull was felt across northern Israel, too: In the town of Nahariya, residents who had been hiding in shelters for the better part of three weeks began emerging. Supermarkets were fuller than before and more people were in the streets, walking along the beach and shopping.
But diplomatic efforts to end the crisis faltered, despite increased world pressure for a cease-fire after the devastating strike in Qana.
Israel's Security Cabinet early Tuesday approved widening the ground offensive, a participant said, and rejected a cease-fire until an international force is in place in southern Lebanon.
The participant, speaking on condition of anonymity because he was not authorized to talk to reporters, said Israel's airstrikes would resume "in full force" after a 48-hour suspension expires in another day.
Thousands of army reserves have been called up in recent days in advance of the decision, which is expected to lead to sending more troops into the border area. Israeli leaders have said they want to carve out a zone about 1 mile wide that would be free of Hezbollah.
Israel called the 48-hour suspension after the Qana attack to give time for an investigation, though it said its warplanes would still hit urgent Hezbollah targets, and at least three strikes took place Monday.
Israeli Prime Minister Ehud Olmert apologized for the civilian deaths in Saturday's strike, in which 56 people, mostly women and children, were killed.
"I am sorry from the bottom of my heart for all deaths of children or women in Qana," he said. "We did not search them out. ... They were not our enemies and we did not look for them."
But he insisted Israel, which began its offensive after Hezbollah snatched two soldiers and killed three others in a cross-border raid July 12, had no choice but to fight.
"There is no cease-fire, there will be no cease-fire," he said. "We are determined to succeed in this struggle. We will not give up on our goal to live a life free of terror."
Near the fighting, grass fires set by shelling blazed into the night sky from the hills outside the Lebanese border town of Marjayoun. U.N. peacekeepers struggled to get trucks full of aid supplies across the Litani River as artillery pounded only a few hills away.
President Bush resisted calls for an immediate halt to fighting, underlining that any peace deal must ensure that Hezbollah is crippled. He said Iran and Syria must stop backing the Shiite militant group with money and weapons.
"As we work with friends and allies, it's important to remember this crisis began with Hezbollah's unprovoked attacks against Israel. Israel is exercising its right to defend itself," Bush said.