MUMBAI - Indian police have arrested a journalist who may know those behind a series of co-ordinated bombs on Mumbai's rail network earlier this month that killed 186 people, officers said on Monday.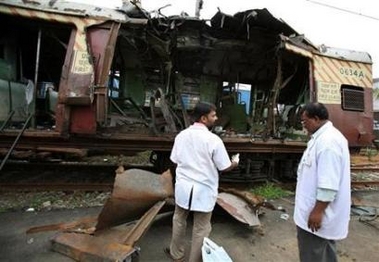 Forensic officers examine a railway train compartment following this month's Mumbai train bombings, July 12, 2006. [Reuters]
The latest arrest takes the number of people in police custody to nine in an investigation that has spread across several states, and into neighbouring Nepal.
All the arrested, who include a doctor, a chemical engineer and a computer software professional, are Indian Muslims.
"He (the journalist) has been arrested and we are questioning him," K.P. Raghuvanshi, chief of the city's anti-terrorism squad, told Reuters.
Charges were expected to be read out when the man appears in court later on Monday.
A senior police official said the journalist, who works for a Urdu-language daily, has been held as investigating officers suspected he knew the people behind the blast, and may have helped them.
"This person is known to be a sympathiser of some hardline Muslim organisations," the officer said.
On Monday police revised the death toll from the blasts to 186 people from 182.
Indian security officials say the blasts were carried out by local Muslims who had links to Pakistan, with the Pakistan-based Islamist militant group Lashkar-e-Taiba a prime suspect.
The Pakistani government and Lashkar have denied any role in the attacks and Islamabad has offered to help India investigate the bombings.
In response, New Delhi has challenged Islamabad to arrest Lashkar's leaders as well as an underworld crime boss blamed for 1993 bombings in Mumbai.