MEXICO CITY - A fiery leftist who says he was robbed of victory in Mexico's presidential election set up protest camps to paralyze the heart of the capital on Sunday after hundreds of thousands of people marched to demand a vote recount.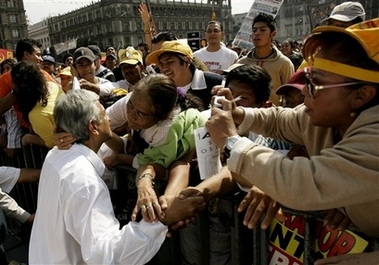 Mexican presidential candidate Andres Manuel Lopez Obrador is kissed by a supporter at the main Zocalo plaza in Mexico City, Mexico on Sunday July 30, 2006. Leftist candidate Andres Manuel Lopez Obrador called on a march Sunday of at least a half million followers to transform itself into a sit-down protest in Mexico's capital to press an electoral court for a recount of the country's disputed presidential race. [AP]
Andres Manuel Lopez Obrador said he would join supporters in living day and night at the camps in the Zocalo square and on main roads running through the city center until Mexico's electoral court orders and completes a recount of every vote.
The protest could last for weeks and cripple key areas of the capital, including its financial district and the elegant Reforma boulevard that houses the U.S. Embassy and the headquarters of banks and major companies.
It marks the start of a promised campaign of civil disobedience to protest alleged fraud in the July 2 election.
"This goes much further than them recognizing my victory as president," Lopez Obrador told supporters at the end of a huge march. "The fundamental thing is that we have democracy in our country."
Mexico has been locked in a political crisis since the election, which saw conservative ruling party candidate Felipe Calderon beat Lopez Obrador by around 244,000 votes out of more than 41 million cast.
A conservative who supports free-market reforms, Calderon insists no recount is needed because the election was clean, and he argued his case before the electoral court on Sunday.
"It is here and not in the street that the election should be graded," he said he told the judges. "We will not allow the votes of millions and millions of Mexicans to be canceled out by demagoguery and senselessness."
Lopez Obrador, an austere former mayor of Mexico City who promised to help the poor with ambitious infrastructure and welfare programs, claims the vote counts were tampered with at more than half the country's roughly 130,000 polling stations.
He is challenging the result before the electoral court, and says he will only accept it if there is a full recount.
The leftist's supporters prepared for a long occupation on Sunday by erecting tents in the Zocalo, one of the world's largest squares and once the center of the Aztec empire.
Lopez Obrador spoke to supporters and signed autographs as they set up camp. Some said they would do whatever it takes to overturn the election result.
"We the revolutionaries of Chihuahua can't let some bald guy (Calderon) impose himself through fraud," said Jesus Trevino, an artist from the northern state of Chihuahua.
European Union observers said they found no evidence of foul play on July 2. But the fight has split Mexico almost down the middle just six years after President Vicente Fox won an historic election that ended seven decades of one-party rule.
Polls show that while slightly more than half the country thinks Calderon won cleanly, more than a third believe there was fraud and half want a recount.
Sunday's march was the third major protest in the last three weeks, and one of the biggest in Mexican history. City police said more than 1 million people took part, although their estimates are often exaggerated as the capital is run by Lopez Obrador's party.
The seven-judge electoral court has until August 31 to decide whether or not to reopen ballot boxes.
Its options range from throwing out Lopez Obrador's case and declaring Calderon the winner, to ordering a partial or full recount or even annulling the vote and calling a repeat.