Israel-Lebanon border observers removed
(AP)
Updated: 2006-07-28 22:36
BEIRUT, Lebanon - The United Nations has decided to remove 50 unarmed observers from posts along the Israeli-Lebanese border and relocate them with lightly armed UN peacekeepers, a spokesman said Friday.
Also Friday, Hezbollah announced it had fired a new rocket, called the Khaibar-1, striking near the northern Israeli town of Afula.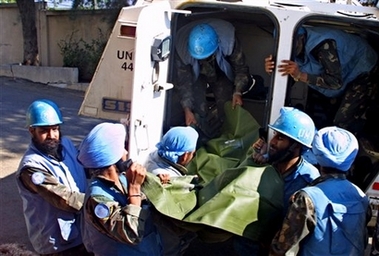 UN troops carry the body of one of the three unarmed UN military observers killed by an Israeli bombardment on the southern Lebanese town of Khiam, late Tuesday, at a hospital in the southern city of Marjayoun, Lebanon, Wednesday, July 26, 2006. [AP]
Israeli authorities reported that five rockets hit fields outside Afula, causing no casualties. Afula is about 30 miles south of the Israeli-Lebanese border, and is farther south than the Israeli port city of Haifa.
The strike came two days after Hezbollah leader Sheik Hassan Nasrallah said in a televised speech that Hezbollah would start a new phase in the battle striking beyond the Israeli city of Haifa, which has been hit several times in lethal rocket fire.
The area around Afula has been struck before, but Israeli security officials said Friday's attacks were the southernmost so far.
The UN decision came three days after an Israeli airstrike destroyed one of the posts earlier this week, killing four UN observers from Austria, Canada, China and Finland.
UN¡¡Secretary-General Kofi Annan has said Israel appeared to have struck the site deliberately - an accusation Israel vehemently denies. But a UN Security Council statement Thursday expressed shock and distress at the killing of the observers, but avoided any condemnation.
"These are unarmed people and this is for their protection," said Milos Struger, a spokesman for UN peacekeepers. He said the 2,000 peacekeepers in Lebanon have light weapons for self-defense.