US Secretary of State Condoleezza Rice and her aides huddled with international leaders Friday about ways to advance a cease-fire in the Middle East, often working long-distance with European and Arab allies.
Attending a conference on Asian issues, Rice heard the concerns about violence on the Lebanese-Israeli border, now raging into a third week. Rice's travel plans remained in flux amid speculation she might return to the Middle East.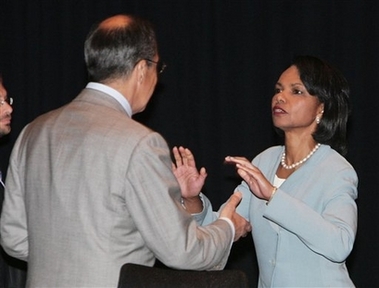 U.S. Secretary of State Condoleezza Rice, right, talks with Russian Foreign Minister Sergey Lavrov before the multilateral talks during ASEAN Regional Forum in Kuala Lumpur July 28, 2006. Friday, July 28, 2006. [AP]
A State Department official, who spoke on the condition of anonymity, said Rice would likely leave Malaysia on Saturday, rather than Friday as earlier expected. The changing schedule would delay a possible visit to the Middle East and suggests that Bush administration officials working behind the scenes on the crisis in Lebanon were making slow progress.
Nearly every U.S. ally has called for a quick truce to end the bloodshed and efforts to smooth needed humanitarian supplies to the Lebanese. Rice agrees, but reiterated her position that the Israelis and the Lebanese must do the time-consuming work of achieving a sustainable peace plan.
As she did so, President Bush's spokesman Tony Snow said the administration would "push back" against criticism of the United States.
Rice spent three days dashing to high-stakes meetings in Beirut, Jerusalem, the West Bank and Rome, and then traveled to Malaysia on Thursday for a long-planned conference of the Association of Southeast Asian Nations.
While there, she and her diplomatic team remained focused on negotiating a way to end the fighting between Israel and the Lebanese militia Hezbollah. Rice also dispatched two U.S. envoys, Elliot Abrams and David Welch, to work on a second track in the region.
British Prime Minister Tony Blair, en route to Washington to meet Friday with Bush, said he will seek a U.N. resolution to resolve the Mideast crisis by early next week, his spokesman told reporters on customary condition of anonymity.
Speaking in Malaysia on Friday, the European Union's foreign policy chief Javier Solana said, "Everybody wants a cease-fire, everybody. We want the cease-fire to be durable and to be as soon as possible."
Crucial to any agreement, he said, is a legal package from the U.N. Security Council that would potentially deploy an international force to help the Lebanese government secure its entire territory.
Rice attended individual meetings with eight foreign ministers, including those from the Muslim nations of Indonesia and Malaysia. The diplomats were almost certain to have raised the issue of the Mideast fighting.