Israel OKs more Lebanon bombing
(Reuters)
Updated: 2006-07-27 17:04
Israeli Prime Minister Ehud Olmert's cabinet favours stepped up air strikes against Hizbollah guerrillas rather than an expanded ground offensive in Lebanon, Israeli media said on Thursday.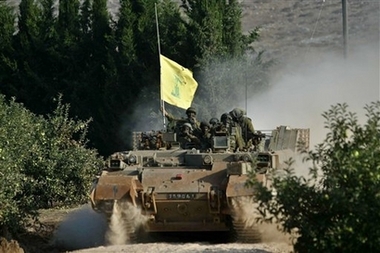 Israeli soldiers, atop an armored personnel carrier, hold a Hezbollah flag as they cross the border from Lebanon into northern Israel, Thursday, July 27, 2006. Hezbollah dealt Israel its heaviest losses in the Lebanon campaign Wednesday, killing nine soldiers in fierce firefights. [AP]
Olmert's inner security cabinet met on Thursday to consider what response to take after nine soldiers were killed in south Lebanon the day before, the heaviest loss in 24 hours that the army has suffered since the war began.
A decision was expected later.
"Ministers want to step up air strikes and limit ground operations," said Israel's Army Radio. Israel Radio carried a similar report. Israeli forces have been trying to push Hizbollah back from the border and end rocket attacks since the group abducted two soldiers in a raid on July 12, but the army is wary of getting bogged down in guerrilla battles in southern Lebanon.