The UN Security Council failed to agree a statement condemning the killing of four UN observers in Lebanon after the United States rejected any criticism of the Israeli attack, diplomats said.
The council will renew efforts to agree a text or another reaction on Thursday, French ambassador Jean-Marc de La Sabliere, the council president for July, told reporters.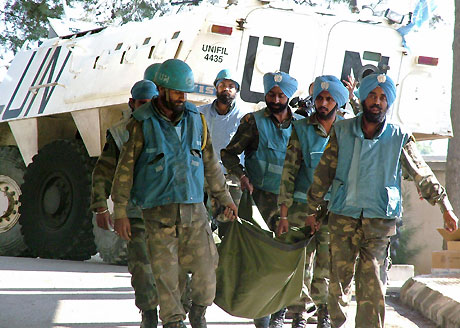 United Nations soldiers from India carry the body of a UN observer, who was killed during Israeli air strikes on Khiam village, to a hospital in Marjaoun village in south Lebanon July 26, 2006. [Reuters]
Ambassadors announced the failure to agree a presidential statement following a day of intense haggling among the 15-nation council.
China, home to one of the dead soldiers of the UN mission in Lebanon, or UNIFIL, had originally demanded the statement condemn the attack. The United States would not accept any criticism of its ally, diplomats said.
China's envoy Wang Guangya said: "China, definitely we condemn this, and definitely I think most of the members will condemn what happened.
"We need to not only condemn what happened but we need to adopt a forward-looking approach to make sure that no future events like this happen."
Military observers from Austria, Canada, China and Finland were killed in the bombardment of an observation post at Khiam in southern Lebanon on Tuesday. Israel has said the attack was a mistake.
De La Sabliere said that France also condemned the attack.
He said that by striking UNIFIL observers, "the peacekeeping force of the international community has been attacked. We, as France, cannot but condemn this action, which demonstrates more than ever that the fighting must cease urgently."
The French envoy said the council had become deadlocked on how to describe the attack.
"Members of the council are aware of the responsibility of the council towards the safety and the security of UN personnel all around the world," he said.
"We did not reach an agreement tonight because there was no consensus on how to qualify the incident, and thus no consensus on the best wording to react to it."
Questioned about the impact of the disagreement, the Chinese envoy warned that the failure to agree a text could have an affect on efforts to agree other key issues before the UN Security Council, particularly on Iran's nuclear programme.
"I hope not, but I think that somehow it will have an impact, because if we want the unity of the council on this issue we also want the unity of the council on other issues," he said.