India welcomed on Thursday the U.S. House of Representatives' initial approval of a landmark civilian nuclear cooperation deal but experts said the accord had a long way to go before it was fully sealed.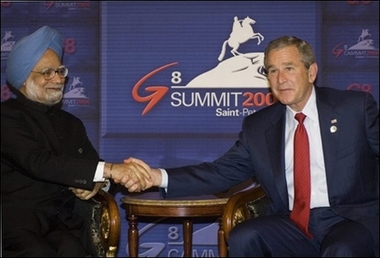 US President George W. Bush (right) with Indian Prime Minister Manmohan Singh in St Petersburg on July 17, 2006. The US House of Representatives approved a controversial US-India civilian nuclear energy deal, which supporters said will be the cornerstone of a new strategic alliance between the two countries.[AFP\File]
The U.S. chamber approved the controversial deal with an overwhelming 359-68 vote on Wednesday. Lawmakers rejected amendments that aimed to put limits on India's nuclear weapons programme.
An aide to Indian Prime Minister Manmohan Singh said there was rejoicing in the government over the House vote and Singh could comment on the issue in parliament as early as Thursday.
Under the deal, India will get access to U.S. nuclear fuel and equipment -- barred so far as New Delhi has not signed the nuclear non-proliferation treaty and conducted nuclear tests -- to meet its soaring energy needs.
However, it also needs to be approved by the U.S. Senate and a vote is not expected until September. The House and Senate would vote again after negotiations on the technical details of the agreement are completed.
India must also complete negotiations with the International Atomic Energy Agency on a system of inspections for its civilian nuclear sites and the 45-nation Nuclear Suppliers Group must change its regulations to allow nuclear transfers to India.
The deal has been strongly criticised by the non-proliferation lobby in the United States. The lobbyists say the agreement would allow India to produce nuclear weapons easily because it frees its domestic atomic supplies for military use.
It has also been attacked in India with supporters of Singh's government, as well as the opposition, accusing New Delhi of submitting to tough conditions imposed by Washington and compromising its nuclear security.
Wednesday's vote in support of the deal reflected the strong efforts by the U.S. administration and New Delhi in convincing Congressmen about the pact's benefits, analysts said.
"At a political level, the importance of India has been acknowledged and we can see it in this vote," said C. Raja Mohan, strategic affairs editor at the Indian Express newspaper.
"The vote is an extraordinary demonstration of huge bipartisan political support for the deal in the United States," he said.
The next approval process, though, could be tougher.
"The bill still has to be passed by the Senate and that is where the challenge will be as that is where all the non-proliferation advocates are," said R.R. Subramanian, an independent nuclear expert.
"The Senate is a cause of concern as that is where the details will be examined more closely," he said.