China asked the UN Security Council on Wednesday to condemn an Israeli attack on a UN observer post in southern Lebanon that killed four peacekeepers from Austria, Canada, China and Finland.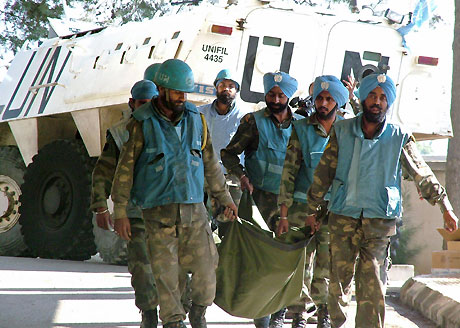 United Nations soldiers from India carry the body of a UN observer, who was killed during Israeli air strikes on Khiam village, to a hospital in Marjaoun village in south Lebanon July 26, 2006. [Reuters]
"For China and for others," China's UN Ambassador Wang Guangya said, "we condemn this because I think any attack on the United Nations positions and the United Nations personnel is inexcusable and unacceptable."
Also on Wednesday, Chinese President Hu Jintao expressed "deep condolences" over the death of Chinese UN observer Lieutenant-Colonel Du Zhaoyu and expressed utmost sympathy to his family.

The president instructed officials to condemn the attack, said a statement from the Foreign Ministry.
Hu "demanded the departments concerned properly handle the aftermath of the incident and take every measure necessary to ensure the safety of Chinese nationals in Lebanon," it said.
Ministry spokesman Liu Jianchao said earlier that China felt "deeply shocked" by and "strongly condemned" the Israeli air raid.
The country called for an immediate ceasefire. "China urges the concerned sides, especially Israel, to take tangible measures to ensure the security of UN peacekeepers," Liu said.
"China will work with the international community, increase diplomatic efforts and push the Middle East situation back to peace and stability at an early date," he added.
Austria and Finland, both of which also lost citizens in the attack, condemned the bombing, with Finnish Foreign Minister Erkki Tuomioja calling it "truly tragic." The fourth victim of the bombing was Canadian.

"These so-called precision attacks seem to be mainly targeting everyone else except the Hezbollah," Tuomioja said. "The longer this continues the more likely it is that there will be more similar victims."
UN Secretary-General Kofi Annan called on Israel on Tuesday to investigate what he termed the "apparently deliberate targeting" of the UN observer post.

Israeli Prime Minister Ehud Olmert said on Wednesday he had spoken to Annan to express "deep sorrow" over the four deaths in Lebanon and to say he was ordering an investigation.
But he voiced shock at Annan's suggestion that the attack was deliberate.

Following a closed-door briefing on the attack by Jane Holl Lute, a deputy head of UN peacekeeping operations, council members hoped the 15-nation body would adopt a statement on Wednesday or Thursday.

The deaths raised questions about whether peacekeepers should remain in south Lebanon while the international community debates whether to send in new forces. France and others have suggested UNIFIL could help deliver aid or protect humanitarian workers.
Both the 2,000-soldier UN Interim Force in Lebanon and the 155-strong UN Truce Supervision Organization remain in the area despite intense fighting between Israel and Lebanon's Hizbollah militia.

Observers asked Israel to stop bombing 10 times before post was hit

UN observers in Lebanon telephoned the Israeli military 10 times in six hours to ask it to stop shelling near their position before an attack killed four observers and sparked international anger against Israel, UN officials said
The UN observation post near Khiam came under close Israeli fire 21 times Tuesday, including 12 hits within 100 yards and five direct hits from 1:20 p.m. until the peacekeepers' post was destroyed at 7:30 p.m., Jane Lute, assistant secretary-general for peacekeeping, told the UN Security Council in New York on Wednesday.