Iraqi Prime Minister Nouri al-Maliki appealed to Congress Wednesday to press the war in Iraq with money and troops, portraying his country as crucial to the U.S. as a front line in the war on terror and comparing violence there to the Sept. 11 attacks.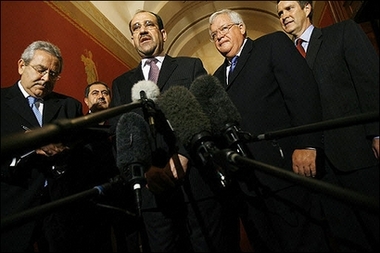 Iraqi Prime Minister Nuri Al-Maliki(C) makes a statement to the news media while Speaker of the House Dennis Hastert(2nd-R), R-IL, and Senate Majority Leader Bill Frist(R), R-TN, look on at the US Captiol. Maliki thanked the United States for ousting former dictator Saddam Hussein and hailed the "new Iraq that is emerging from the ashes of dictatorship." [AFP]
Addressing a joint meeting of Congress, al-Maliki said, "Do not imagine that this problem is solely an Iraqi problem because the terrorist front represents a threat to all free countries and free people of the world."
Lawmakers in the House chamber gave him a warm welcome, but a number of Democrats stayed away, upset by al-Maliki's stance on another Mideast crisis: He has refused to criticize Hezbollah for its attacks on Israel.
Despite tough rhetoric against terrorism in the Middle East, al-Maliki did not mention the combat between Israel and Hezbollah guerrillas that over the past two weeks has killed hundreds, devastated parts of Lebanon and seen rockets bombard northern Israel.
Later in the day, al-Maliki and President Bush ate lunch with military troops at nearby Fort Belvoir in Virginia. Bush praised him there as a man who has "helped save lives."
The speech by al-Maliki, who became prime minister two months ago, capped a two-day visit to Washington that included personal talks with Bush at the White House on Tuesday. His address came with sectarian violence in Iraq on the rise, threatening hopes by the Bush administration and lawmakers facing election this year that some U.S. troops might come home soon.
During his address, al-Maliki appealed for more aid from the United States and other nations and sought to solidify Congress' commitment to rebuilding Iraq, though he mentioned no specifics. In earlier meetings at the White House, the Iraqi leader asked for more military equipment and recommended increasing U.S. and Iraqi forces patrolling Baghdad neighborhoods. Bush agreed and said more U.S. forces would be moved into the embattled capital from other parts of Iraq.
Congress has approved nearly $300 billion to try to secure and rebuild the country more than three years after a U.S.-led invasion toppled Saddam Hussein. Some 127,000 U.S. troops remain in the region.
Without identifying exact amounts, al-Maliki lamented money that has wound up "in the hands of security contractors and foreign companies that operate with enormous profit margins," rather than in the hands of needy Iraqis.
"There needs to be a greater reliance on Iraqis and Iraqi companies with foreign aid and assistance to help us rebuild Iraq," he said.