Venezuelan President Hugo Chavez hailed Russia on Wednesday for defying a US arms blockade by agreeing to sell fighter aircraft to his country.
Chavez will sign a US$1 billion deal to buy at least 24 Russian Sukhoi-30 jets to replace oil-rich Venezuela's US F-16s.
"I would like to thank Russia, the producer of armaments, because Russia has helped to sever the blockade that was tied by the United States around Venezuela," Chavez said in the city of Izhevsk in remarks reported in Russian by Interfax news agency.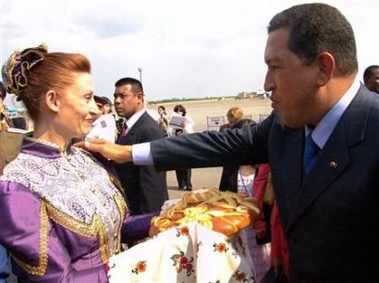 Venezuela's President Hugo Chavez (R) is greeted with traditional bread upon his arrival at the airport in the southern Russian city of Volgograd, July 25, 2006. Chavez hailed Russia on Wednesday for defying a US arms blockade by agreeing to sell fighter aircraft to his country. [AP]
"American imperialism wants to hold the world in its fist, but it will not succeed in this ...," he said, according to Itar-Tass news agency, during an earlier stop in Volgograd.
Chavez, who says he is preparing his armed forces to fend off a US invasion, is set to cement growing ties with President

Vladimir Putin at a Kremlin meeting on Thursday.
Washington has banned US arms manufacturers from selling to Chavez. The US says the populist leader, who proclaims socialist ideals to unite South America against U.S. influence, is destabilizing the region.
U.S. officials hoped to talk Russia out of the arms deals, but relations between Moscow and Washington are cool. Senior Kremlin officials say they see no reason to take advice from the United States.
A former soldier, Chavez actively courts Washington's foes such as Cuba and

Iran, a country he will also visit on his two-week world tour.
He visited a firing range in Izhevsk and was set to meet Mikhail Kalashnikov, designer of the legendary assault rifle, who lives there.
Chavez said agreements would be signed to build plants in Venezuela to produce Kalashnikov assault rifles and ammunition. Venezuela recently bought 100,000 Kalashnikov rifles as well as Russian attack and transport helicopters.
Chavez said Russia -- the world's biggest natural gas producer and second largest oil exporter -- was ready to help build a steel pipe factory for a 8,000-km Latin American gas pipeline. Venezuela is the world's No. 5 oil exporter.
Chavez arrived in Russia on Tuesday and, in the city of Volgograd, he paid homage to a statue of revolutionary leader Vladimir Lenin.