Kofi Annan on Wednesday called for participants at a Mideast conference to push for an immediate cease-fire to end fighting between Israel and Hezbollah guerrillas, and said that an international force is vital to a peaceful solution.
The UN chief said Hezbollah must stop its "deliberate targeting of Israeli population centers" and that Israel must end all bombing, ground operations and blockades of Lebanese ports.
Senior officials from the United States, Europe and several Arab nations met to work on a plan for ending more than two weeks of fighting, even as Israeli troops and Hezbollah continued to clash.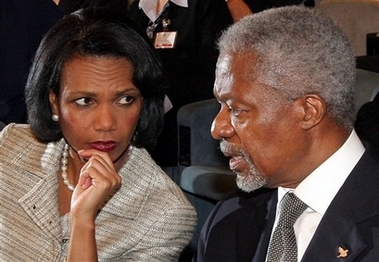 US Secretary of State Condoleeza Rice talks to United Nations Secretary-General Kofi Annan at La Farnesina Foreign Ministry in Rome, Wednesday, July 26, 2006. Senior officials from the United States, Europe and several Arab nations met in Rome Wednesday with the aim of agreeing on a plan for ending more than two weeks of fighting between Israel and Hezbollah guerrillas in southern Lebanon. [AP]
Much of the discussion will likely focus on efforts by the Europeans and others to overcome strong US and British opposition to an immediate cease-fire. The Americans are against a quick truce, arguing that a cessation of violence must also lead to a durable peace and ensure that Hezbollah is no longer a threat to Israel.
In a first sign of a concrete proposal, Italian Foreign Minister Massimo D'Alema called on participants to agree on an international donors conference for the reconstruction of Lebanon, his spokesman, Pasquale Ferrara, told reporters.
The foreign ministers and other senior officials from 15 nations, as well as Annan and representatives from the European Union and the World Bank, will also discuss the possible deployment of a multinational force to stabilize Lebanon's border with Israel and help disarm Hezbollah guerrillas.
The meeting comes as the violence threatens to spiral further. Over the past day, ground fighting intensified, Hezbollah's leader threatened to strike deeper into Israel, and Iran's president, Mahmoud Ahmadinejad, warned the conflict could trigger "a hurricane" of broader fighting in the Middle East.
An Israeli airstrike on a UN observation post in southern Lebanon that killed four unarmed UN observers is also likely to further fuel international demands for an immediate cease-fire.
Annan said the airstrike late Tuesday was "apparently deliberate" and demanded an investigation. Israeli Prime Minister Ehud Olmert called Annan on Wednesday to express his "deep regret over the mistaken killing," Olmert's office said.
Officials in Brussels told The Associated Press that Javier Solana, the EU foreign and security affairs chief, will propose that a rapid reaction force be established. It would ideally be built around French, German and Spanish troops, supplemented by forces from Turkey, the Netherlands, Canada and Arab states such as Egypt and Saudi Arabia, EU officials said.