Calif. deaths rise after another scorcher
Gripped by a 10th straight day of 100-degree heat, California sweated out the possibility of more blackouts Tuesday as the number of suspected heat-related deaths climbed to at least 56 and the rotting carcasses of thousands of dairy cows and other livestock baked in the sun.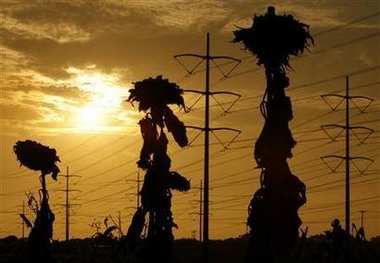 Withered sunflowers are silhouetted next to power lines in Carlsbad California as a heat wave strains the state's power grid, July 24, 2006. [Reuters]
Some communities faced their third day without electricity as the record-breaking temperatures strained transmission equipment.
"We're asking people for one more day of conservation," said Gregg Fishman, the California Independent System Operator, which manages the state's power grid. "We're not out of the woods yet."
The stretch of 100-plus degree scorchers that descended on the state last week marks the first time in 57 years that both Northern and Southern California have experienced extended heat waves simultaneously, California Undersecretary for Energy Affairs Joe Desmond said.
In the Central Valley, where most of the deaths have occurred, temperatures were expected to reach 100 to 105 degrees on Tuesday, down from 110 to 115 in previous days. Truly cooler weather was not expected until Wednesday, when the system was forecast to move east into Nevada and Utah.
Coroners in 14 counties were investigating deaths that appeared heat-related. Most of the victims were elderly. Among the dead was a nursing home patient in Stockton who died after the air conditioning gave out in 115-degree weather. A gardener collapsed on the job and died. A woman was found dead along a bike path.
On Tuesday, three elderly residents of single-room occupancy hotels within four blocks of the state Capitol were found dead. The rooms had no air conditioning.
The heat has been hard on livestock as well, causing thousands of deaths and a dip in milk production in California, the No. 1 dairy state, according to agriculture officials.
In the San Joaquin Valley, a combination of the searing heat, bigger dairies and fewer plants to properly dispose of dead animals created a backlog of rotting carcasses.
"They're just sitting out there in the sun, drawing flies," said Fresno County dairy farmer Brian Pacheco.
Tens of thousands of customers in Northern and Southern California had no electricity. About 1,700 San Jose customers faced their third day without power, and some residents slept in backyards and hotel rooms to escape the stifling heat.
Pacific Gas & Electric spokesman Brian Swanson said most outages were caused by equipment failures and not a shortage of electricity.
In St. Louis, about 145,000 homes and businesses still without power after two storms last week knocked out electricity to nearly 600,000 customers. A utility worker was electrocuted Tuesday and another was injured while trying to restore power.
Many grew frustrated with Ameren Corp.'s handling of the crisis. The Rev. Al Sharpton led a protest Tuesday in front of Ameren headquarters, saying the company was not doing enough to help poor and working-class people. The civil rights activist also called for a 10 percent rate cut to help the community recover.
Ameren officials have said the company responded within 15 minutes after the storm hit.
In New York City, a blackout that left about 100,000 people without electricity during some of the hottest days of the year all but ended Tuesday, allowing weary residents who endured nine days of rotting food and sweltering homes to begin getting back to normal.
Consolidated Edison said fewer than 500 people remained without electricity in the borough of Queens as of Tuesday evening.
Meanwhile, the first lawsuit against the utility over the blackout emerged Tuesday, and the City Council said it would hold its first hearing on the outages Thursday. Utility spokesman Chris Olert declined to comment on the suit.
In the suit, Sandra Boyle said her 2-year-old child became ill and she couldn't get in touch with a doctor for hours because she had no power. She is seeking unspecified damages for emotional and physical distress.
"If it was only me and my husband, I wouldn't be here," she said. "I'm very fed up with the whole thing. In this day and age ¡ª it's not a third-world country that we live in."
Elswhere, a 51-year-old woman collapsed and died of heat stroke Monday while walking on a dirt road near her home in Lindsay, Okla., authorities said Tuesday. The temperature there had reached 95 degrees, and an autopsy showed the woman's body temperature was 112.