UN Secretary General Kofi Annan called for Israel to investigate what he called the "apparently deliberate targeting" by Israeli forces of the UN post.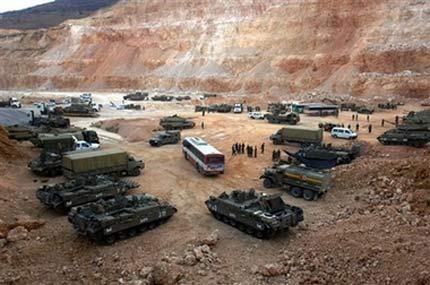 Israeli troops gather as they prepare to cross the border with Lebanon, in northern Israel, Tuesday, July 25, 2006. [AP Photo]



As reports of the attack emerged, Annan rushed out of a hotel in Rome following a dinner with US Secretary of State Condoleezza Rice and Lebanese Prime Minister Fuad Saniora.

In a statement released in New York, Annan said he was "shocked and deeply distressed by the apparently deliberate targeting by Israel Defense Forces of a UN observer post in southern Lebanon."

Annan said in his statement that the post had been there for a long time and was marked clearly, and was hit despite assurances from Prime Minister Ehud Olmert that UN positions would not be attacked.

Israel's UN Ambassador Dan Gillerman expressed his "deep regret" for the deaths and denied the post was intentionally targeted.

Gillerman called the assertions "premature and erroneous."

"I am shocked and deeply distressed by the hasty statement of the secretary-general, insinuating that Israel has deliberately targeted the UN post," he said.

He said Israel would investigate the bombing. "We do not have yet information what caused this death: it could be the IDF (Israel's military) it could be Hezbollah," he said.

Rescue workers were trying to clear the rubble, but Israeli firing "continued even during the rescue operation," Struger said.

UN officials said four observers were in the post when the bomb hit, and the building had been destroyed.

Since Israel launched a massive military offensive against Lebanon and Hezbollah guerrillas July 12, an international civilian employee working with UNIFIL and his wife have been killed in the crossfire between Israeli forces and Hezbollah guerrillas in the southern port city of Tyre.

Five UNIFIL soldiers and one military observer have also been wounded, Struger said.

Hezbollah: Israeli onslaught a surprise

A senior Hezbollah official said Tuesday the guerrillas did not expect Israel to react with an all-out offensive after the capture of two soldiers, the first acknowledgment by the group that it had miscalculated the consequences of the raid two weeks ago.