LONDON - Relatives of an innocent Brazilian man slain by police who mistook him for a terrorist marked the first anniversary of his death Saturday with a memorial service at the Underground station where he was killed.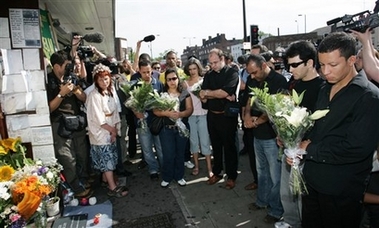 Relatives and supporters of Jean Charles de Menezes hold a minute silence during a remembrance ceremony to mark the one year anniversary of Jean's death at a shrine outside Stockwell underground tube station in South London, Saturday, July 22, 2006. Jean Charles de Menezes, an innocent Brazilian man was shot dead by British police officers at Stockwell tube station on July 22, 2005, after he was mistaken for a suicide bomber.[AP]
Jean Charles de Menezes, 27, was shot in the head two weeks after four suicide bombers killed 52 commuters and themselves on London's transport system, and a day after a similar set of failed attacks.
Police apologized and said the killing had been a mistake. It infuriated many in Britain and Brazil and prompted deep worries about police anti-terror tactics.
Menezes' cousins were among about 30 people who bowed their heads for a moment's silence before a makeshift shrine at Stockwell Underground station in south London, where he died.
"This is a day of remembrance and a day of great sorrow for the family," said the relatives' spokesman, Asad Rehman. "It seems like yesterday Jean was with them and then taken away from them."
The Rev. Jose Osvaldo, who led the service, recited a prayer in Portuguese and said "We hope that something like this never happens again and we pray for peace and for love and justice."
Also present at the service was Mohammed Abdul Kahar, 23, who was shot in the shoulder by police who raided his home June 2 because they believed a chemical bomb was being manufactured there.
British prosecutors announced Monday that no police officers would face criminal charges in de Menezes' death but said they were charging the Metropolitan Police as an organization for failing to provide for his health and safety. If convicted, the department could face an unlimited fine.
De Menezes' family were outraged by the decision and have said they are considering challenging it in court. The Brazilian Foreign Ministry also expressed dismay.
The Guardian newspaper reported Saturday that the Independent Police Complaints Commission had concluded officers in charge of the operation that killed de Menezes had wanted him arrested, not shot. The newspaper quoted a letter from prosecutors to the de Menezes family summarizing the results of the commission's investigation, which has not been made public.
The report found that a series of communication failures had left the officers who shot de Menezes believing he was a potential suicide bomber, the newspaper said.
"Messages were misinterpreted with tragic consequences," the letter reportedly said.
The officers who killed de Menezes honestly believed he was a potential terrorist, the prosecutors wrote, and there is not enough evidence to convince a jury that their error was criminal, the Guardian said.
Spokespeople for the police, the Crown Prosecution Service and the police complaints commission all declined to comment.