ON THE ISRAEL-LEBANON BORDER - Israeli tanks, bulldozers and armored personnel carriers knocked down a fence and barreled over the Lebanese border Saturday as forces seized a village from the Hezbollah guerrilla group.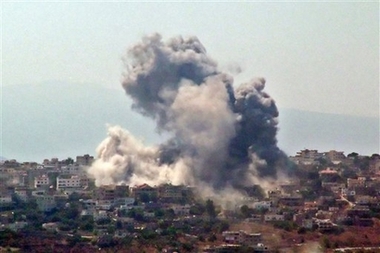 Black smoke billows in the town of Khiam, in southern Lebanon, Saturday, July 22, 2006, after Israeli air raids targeted it. Israeli air raids and artillery shelling also hit the southeast border town of Khiam, Lebanese television and witnesses reported. They also struck the southern village of Kafra, killing two people and wounding four others.[AP]
The soldiers battled militants throughout the day and raided the large village of Maroun al-Ras in several waves before finally taking control, military officials said. Tens of thousands of Lebanese fleeing north packed into the port of Sidon to escape the fighting as the United Nations warned of a growing humanitarian "disaster."
Early Sunday, Israel hit inside Sidon for the first time, destroying a religious complex linked to Hezbollah and hospital officials said four people were wounded.
Two other explosions Sunday reverberated across Beirut, apparently caused by an air raid on Hezbollah areas in the southern suburbs. Warplanes also hit targets in eastern Lebanon's Bekaa Valley firing missiles in the cities of Hermel and Baalbek, witnesses said. There was no immediate word on casualties in either strike.
The growing use of ground forces, 11 days into the fighting, signaled Israeli recognition that airstrikes alone were not enough to force Hezbollah out of southern Lebanon. But a ground offensive carries greater risks to Israel, which already has lost 18 soldiers in the recent fighting. It also threatens to exacerbate already trying conditions for Lebanese civilians in the area.
Israeli military officials have said they want to push Hezbollah beyond the Litani River, about 20 miles north of the border, with the Lebanese army deploying in the border zone. An Israeli radio station that broadcasts to southern Lebanon warned residents of 13 villages to flee north by Saturday afternoon. The villages form a corridor about 4 miles wide and 11 miles deep.
With Lebanese fearing an escalation in the battle, international officials worked to end the conflict.
Secretary of State Condoleezza Rice was set to arrive in the Middle East on Sunday, though she ruled out a quick cease-fire as a "false promise."
President Bush said his administration's diplomatic efforts would focus on finding a strategy for confronting Hezbollah and its Syrian and Iranian backers.
"Secretary Rice will make it clear that resolving the crisis demands confronting the terrorist group that launched the attacks and the nations that support it," Bush said in his weekly radio address.
Italy, which has been trying to mediate an end to the fighting, said it would hold a conference Wednesday to work out the basis for a truce agreement. U.N. Secretary-General Kofi Annan has proposed a beefed-up U.N. force along the Lebanese border, but Israel has called for the Lebanese army to take control of the area.
Annan said the conflict had displaced at least 700,000 Lebanese so far, and Israel's destruction of bridges and roads has made access to them difficult.
"I'm afraid of a major humanitarian disaster," he told CNN.
U.N. humanitarian chief Jan Egeland said it would take more than $100 million to help the displaced. He said he would make an appeal "urging, begging" the international community for contributions.
As part of an effort to avert such a crisis, Israel eased its blockade of Lebanon's ports to allow the first shiploads of aid to arrive. It remained unclear how that aid would get to the isolated towns and villages where the fighting has been centered.
Israel has attacked mostly with airstrikes, but small units have crossed the border in recent days and fought with Hezbollah fighters.
A far larger force of about 2,000 troops entered the area Saturday trying to root out Hezbollah bunkers and destroy hidden rocket launchers.
The troops, backed by tanks and armored vehicles, raced past a U.N. outpost and headed into Maroun al-Ras. Gunfire could be heard coming from the village, and artillery batteries in Israel also fired into the area.
"The forces have completed, more or less, their control of the area of the village, Maroun al-Ras, and made lots of hits against terrorists," said Maj. Gen. Benny Gantz, chief of Israel's ground forces. "It was a difficult fight that continued for not a short time."