Iran announced it would reply to the Western incentives on its nuclear program on August 22, the first time it has given a precise date after weeks of being accused of stalling.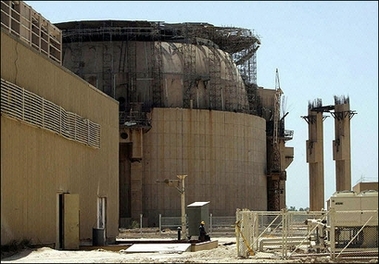 A general view shows the Bushehr nuclear power plant in the Iranian Persian Gulf port of Bushehr, 1,200 Kms south of Tehran, in June 2006. France circulated a revised draft resolution in the UN Security Council that legally requires Iran to suspend all uranium enrichment and reprocessing activities.[AFP\File]
Thursday's statement by Supreme National Security Council suggested Iran was likely to reject the main point of the West's proposals, the imposition of a long-term moratorium on uranium enrichment.
The statement said Iran "has made plans to produce part of its nuclear fuel needs inside the country and is making efforts to meet its required fuel" - a process that entails enriching uranium for use in nuclear reactors.
The council also warned that Iran would retaliate if the world tried to punish it over its nuclear program.
"In case the path of confrontation is chosen instead of the path of dialogue ... and Iran's definite rights are threatened, then there will be no option for Iran but to reconsider its nuclear policies," the council said.
The statement did not spell out what reconsideration would mean, but Iranian officials have repeatedly threatened to withdraw from the Nuclear Nonproliferation Treaty and stop cooperating with U.N. nuclear inspectors.
The five permanent members of the U.N. Security Council plus Germany offered Iran a package of incentives on June 6 to persuade it to suspend enrichment - a process that can produce material for atomic weapons as well as fuel for reactors. The incentives include advanced technology and the easing of US sanctions on the sale of aircraft and aircraft parts.
Last week the world powers decided to refer Iran to the UN Security Council, saying it had taken too long to reply and had given no sign of wanting to negotiate in earnest over its nuclear ambitions.
The Supreme National Security Council insisted that Iran wanted to avoid a showdown.
"Iran is not after tension, but if others push things toward tension and create problems, then all will face problems," it said in the statement. "Iran believes dialogue is the most logical solution. It is serious in this path. We want the other side to return to the negotiating table."
The statement accused the United States of hindering a solution, blaming it for the decision to refer Iran back to the Security Council, which has the power to impose sanctions on the country.
"The United States, by changing the path of talks toward Security Council, is trying to create obstacles," the statement said.
Political analyst Saeed Leilaz said the United States and its allies would find it difficult to pass a Security Council resolution supported by Russia and China while Iran was making clear that it would reply to the incentives.
"It will not be worth creating global tension simply because Iran will give a response a few weeks later than the US has demanded," Leilaz said.
The Iranian council said special committees in key state agencies were studying the offer.
"The package of incentives requires a logical time to study it ... August 22 has been set for declaring (our) views," the council said in the statement that was read on state-run television.
The United States and some of its allies accuse Iran of seeking to produce highly enriched uranium and plutonium for nuclear weapons.
Tehran says its nuclear program is peaceful and aimed at generating electricity. Thursday's statement referred to the national plan to "to meet 20,000 megawatts of electricity through nuclear energy in the next 20 years."
Tehran has insisted on exercising its right to produce nuclear fuel as a signatory to the Nuclear Nonproliferation Treaty, but Western powers are suspicious of its intentions as it concealed parts of its nuclear development from UN inspectors for many years.
Initially, President Mahmoud Ahmadinejad said Iran would respond to the package in mid-August, but later Tehran pushed it back to late August. Thursday's statement was the first time a specific date was set.
On Wednesday, Russia said the UN Security Council is in no rush to pressure Iran over its nuclear program, striking a more conciliatory tone than the United States as diplomats began discussing a resolution demanding that Tehran suspend uranium enrichment or face the prospect of economic and diplomatic sanctions.