Hizbollah leader Sayyed Hassan Nasrallah said on Thursday two Israeli soldiers seized last week would be released only in a prisoner swap, despite a 10-day-old Israeli bombing campaign against Lebanon.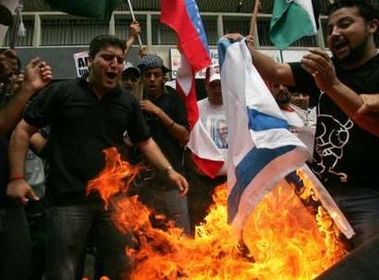 Protesters burn an Israeli flag during an anti-Israel rally outside of the Israeli embassy in Caracas July 20, 2006. Hizbollah fought fierce battles with Israeli troops on the Lebanese border on Thursday, as thousands more foreigners fled the nine-day-old war in Lebanon, including 1,000 Americans evacuated by U.S. Marines. [Reuters]
Looking composed and striking a defiant note in a televised interview, Nasrallah said international pressure on the Lebanese guerrillas to give up the captives would get nowhere.
"If the entire universe came it would not bring back the Israeli soldiers except through indirect negotiations and a prisoner swap," he said in an interview with Al Jazeera TV.
On Wednesday, Israeli warplanes attacked a suspected Hizbollah bunker in southern Beirut, believing senior leaders of the Shi'ite Muslim group were there, perhaps even Nasrallah.
But the charismatic cleric said the group's leadership structure was intact.
"I can confirm without exaggeration ... that the leadership structure of Hizbollah has not been hurt," he said. "All this Israeli talk that they hit 50 percent of our rocket capabilities and warehouses ... this talk is all wrong and nonsense."
Nasrallah said Israeli warplanes on Wednesday had "conducted a fierce raid on a building in the southern suburb. They spoke of 22 tonnes of explosives ... and they said they killed Hizbollah leaders and large numbers of resistance members, this was not true."
Nasrallah's whereabouts are unknown and the Jazeera correspondent who conducted the interview said he was subjected to strict security procedures and did not know where he was.
Israel launched its offensive on Lebanon after Hizbollah captured two soldiers and killed eight in a cross-border raid on July 12. Israel's bombardment has killed at least 311 people in Lebanon, mainly civilians, and displaced hundreds of thousands. At least 29 Israeli soldiers and civilians have been killed.
Nasrallah said Hizbollah "has remained firm and has been able to absorb the hit" and promised "there are still more surprises that we will keep to ourselves".
Hizbollah battled Israeli troops just inside Lebanon for hours on Thursday and Al Jazeera said four Israeli soldiers had been killed in the village of Maroun al-Ras.
Nasrallah warned the Jewish state against mounting a ground invasion and said Hizbollah's rockets would still be able to reach Israel even if its fighters were pushed back 10 or 20 km (6 or 12 miles) from the border.
"A land invasion will be a disaster for the Israeli army, a disaster for their tanks, officers and soldiers," he said, also suggesting that a U.N. initiative to end the fighting had failed and that the confronation could be prolonged.
Nasrallah said the conflict might not have lasted so long had it not been for statements by U.S.-allied Arab governments, some of which have blamed Hizbollah.
"I say to the Arab leaders, I don't want your swords or even your hearts. I just want you to get off our back," he said. "Be neutral."