BEIRUT, Lebanon - Israeli troops punched into south Lebanon on Wednesday as warplanes flattened houses and buildings including one thought to hold Hezbollah's top leaders, intensifying an offensive despite mounting international pressure and a Lebanese appeal to spare the country further death and devastation.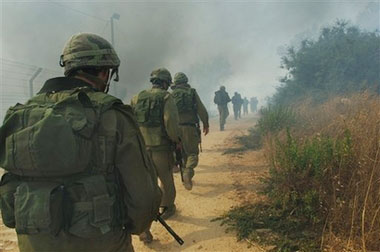 Israeli soldiers advance towards southern Lebanon near the northern Israeli village of Avivim Wednesday July 19, 2006. Fierce firefights between Israeli troops and Hezbollah militants erupted Wednesday along Lebanon's southwestern border with Israel, leaving two Israeli soldiers dead, the Israeli army said. [AP]


The attempt to wipe out the Hezbollah leadership was the most dramatic action on a day that saw Israelis clash with the guerrillas and the Lebanese prime minister say about 300 people in his country had died in the eight-day offensive. Israel broadcast warnings into south Lebanon telling civilians to leave the region, a possible prelude to a larger Israeli ground operation.

Hezbollah, undeterred, fired rockets into the Israeli Arab town of Nazareth, where Jesus is said to have spent his boyhood, killing two Arab brothers, ages 3 and 9, as they played outdoors.

Thousands of foreigners fled Lebanon in one of the largest evacuation operations since World War II, including 1,000 Americans who arrived in Cyprus early Thursday on a rented cruise ship.

"I'm so relieved, there are no words to explain. I'm very thankful," said Elizabeth Kassab, 45, nervously smoking a cigarette on the ship's deck. "But I'm still nervous and I won't relax until we get out of here."

The flight from the fighting came as international pressure mounted on Israel and its key supporter, the United States, to agree to a cease-fire. The rising death toll and scope of the destruction deepened a rift between the U.S. and Europe, and humanitarian agencies were sounding the alarm over a pending catastrophe with a half million people displaced in Lebanon.

Hezbollah denied that any of its "leaders or members" died in the strike in the Bourj al-Barajneh district of south Beirut. The explosives did not blast a leadership bunker, but a mosque under construction, the group said in a statement faxed to The Associated Press.

In a statement, the Israeli military spokesman's office said: "We attacked a bunker of Hezbollah leaders in the Bourj al-Barajneh neighborhood of Beirut." The military said the attack took place between 8 p.m. and 9 p.m. and involved 23 tons of explosives.

Last Friday, Israel bombed leader Sheik Hassan Nasrallah's headquarters but both he and his family survived.

Prime Minister Fuad Saniora, whose weak government has been unable to fulfill a U.N. directive to disarm Hezbollah and put its army along the border with Israel, issued an urgent appeal for a cease-fire. He said his country "has been torn to shreds," and pointedly criticized the U.S. position that Israel acts in self-defense.

"Is this what the international community calls self-defense?" a stern-looking Saniora asked a meeting of foreign diplomats including U.S. Ambassador Jeffrey Feltman. "Is this the price we pay for aspiring to build our democratic institutions?"

Israel vowed to press the offensive in Lebanon until it destroys the militant Shiite guerrillas' vast arsenal of missiles and drives Hezbollah fighters far from its northern border.

The Bush administration is giving Israel a tacit green light to take the time it needs to neutralize the Shiite militant group, but the Europeans fear mounting civilian casualties will play into the hands of militants and weaken Lebanon's democratically elected government.

President Bush has made the survival of the Saniora government a top priority, but the continuing Israeli operation threatened to return Lebanon to the political chaos and violence that ravaged the country during its long civil war.

Saniora pleaded for the foreign powers to back a cease-fire. "Lift the siege and quickly send humanitarian aid," he said, demanding compensation from Israel for "immeasurable loss" to infrastructure.

About 1,000 Americans fled the relentless air attacks, sailing to Cyprus on a chartered cruise liner. An estimated 200 others were flown to the Mediterranean island on giant Chinook transport helicopters.

In all, more than 10,000 people from at least 13 countries had been extracted from Lebanon by Wednesday night.

Israel refused to rule out a full-scale invasion.

"There is a possibility - all our options are open. At the moment, it's a very limited, specific incursion but all options remain open," Capt. Jacob Dallal, an Israeli army spokesman, told The Associated Press.

He said Israel had hit "1,000 targets in the last 8 days - 20 percent (of them were) missile launching sites, control and command centers, missiles and so forth."

Israel said its airstrikes had destroyed "about 50 percent" of Hezbollah's arsenal. "It will take us time to destroy what is left," Brig. Gen. Alon Friedman, a senior army commander, told Israeli Army Radio.

Israel used a radio station near the border to broadcast warnings into south Lebanon telling civilians to leave the region. The radio warnings also stressed that any pickup truck or truck traveling south of the Litani River would be suspected of transporting weapons and rockets and therefore be a potential target of attack.

At least two Israeli soldiers and one militant fighter died Wednesday in the fierce battles in southern Lebanon. Israeli authorities said 18 people were wounded in the Hezbollah rocket attack on Nazareth.

At the close of the eighth day of fighting, a total of 29 people had been reported killed on the Israeli side of the border, including 14 soldiers and 15 civilians.

Saniora said about 300 people had died in Lebanon, 1,000 wounded and half a million were displaced. But precise casualty figures were difficult to confirm.

The police control room announced a total death count in the late morning. As of midday Wednesday, police said 277 had died in Israeli air and missile strikes. The figure at noon Tuesday was 237, which would suggest 40 people had died in the 24 hours ending noon Wednesday.

It was not clear if Saniora had simply rounded the 277 figure up or if he knew of 23 additional deaths Wednesday afternoon.

But it was clear the fighting went on: Three large explosions rattled south Beirut shortly after sunset, a time when Israeli strikes have hit in past days.

The Israeli incursion into Lebanon came before dawn Wednesday, when troops clashed with guerrillas near the coastal border town of Naqoura. The troops later pulled back across the border, though witnesses reported two tanks remained about 500 yards inside Lebanon.

With Hezbollah still operating on the border despite a week's poundings, Israeli strikes were chasing rocket firers with a vengeance, but often hitting others. U.N. peacekeepers' main headquarters in the south was hit by an Israeli artillery shell after a rocket was fired from nearby. There were no casualties.

Israeli bombers, which had been focusing on Hezbollah strongholds in southern Beirut, also hit a Christian suburb on the eastern side of the capital for the first time. The target was a truck-mounted machine used to drill for water but could have been mistaken for a missile launcher. No one was hurt.

In the village of Srifa, near Tyre in southern Lebanon, airstrikes flattened 15 houses after rockets were fired from the area. The village's headman, Hussein Kamaledine, said 25 to 30 people lived in the houses, but it was not known if they were at home at the time. Many people have fled southern Lebanon.

"This is a real massacre," Kamaledine told Hezbollah's Al-Manar TV as fire engines extinguished the blaze and rescue workers searched for survivors.

High casualties also were feared in the nearby town of Salaa and the Hezbollah stronghold of Baalbek in eastern Lebanon, where more houses were devastated.