Tearful parents searched for missing children Tuesday, and soldiers pulled corpses from the debris of homes flattened by the second tsunami to hit Indonesia in as many years. At least 340 people were killed, officials said, with more than 200 are missing.
At least four non-Indonesians were among the dead and more than 54,000 people were displaced, they said.
Bodies covered in white sheets piled up at makeshift morgues, with several others lying beneath the blazing sun on a popular tourist beach, a 6-month-old baby among them.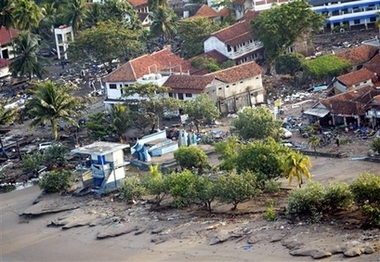 An aerial view of devastated shops after a tsunami swept past the beach in Pangandaran, West Java, Indonesia, Tuesday, July 18, 2006. [AP]
"I don't mind losing any of my property, but please God return my son," said Basril, a villager who goes by one name, as he and his wife searched though mounds of rubble at the once idyllic Pangandaran resort on Java island's southern coast.
The area hit by Monday's wave had been spared by the devastating 2004 Asian tsunami, and many residents said they did not even feel the 7.7-magnitude undersea quake that unleashed the 6-foot-high wall of water.
But some recognized the danger when they saw the ocean recede and fled to higher ground, screaming " Tsunami! Tsunami!" A black wave shot to shore a half hour later, witnesses said, sending boats, cars and motorbikes crashing into resorts and fishing villages. The water reached 300 yards inland.
The death toll rose to at least 339, Health Ministry official Nurvila Dewi said, with another 136 missing and 601 injured.
"We are still finding many bodies, many are stuck in the ruins of the houses," local police chief Syamsuddin Janieb said as soldiers nearby pulled the body of a toddler from the mud and washed it for burial.
Most of those killed were Indonesians, but a Pakistani and Swede were among the dead, Janieb and consulate officials said. The Dutch Foreign Ministry denied reports that three of its citizens were killed.