NATO and Afghan forces will be able to break the back of Taliban resistance in southern Afghanistan before the end of this year, the country's defence minister said in an interview published on Monday.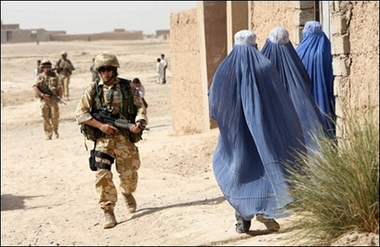 A British soldier from the 16 Air Assault Brigade walks past three women wearing burkas during a foot patrol in Lashkar Gah in Afghanistan's Helmand province, May 2006. Thousands of Afghan, British, Canadian and US soldiers pushed with a major operation against a Taliban hotbed in southern Afghanistan, the US-led coalition has said. [AFP\File]
General Rahim Abdul Rahim Wardak told the Financial Times in Kabul Afghan intelligence had learned that the Taliban's command and control structure was fragmenting due to heavy losses and many mid-ranking commanders were fleeing to safety in Pakistan.
"I think that in the next two or three months there will be some major changes," Wardak said, predicting that by November Taliban militants would have lost steam.
"The way the Taliban are fighting, it looks like they are crazy. They are no match for these forces and usually that is why they suffer heavy casualties. They cannot continue like that."
Foreign troops have launched one of their biggest offensives against militants since the fall of the Taliban in 2001 as NATO prepares to take over in the south from a U.S.-led coalition force at the end of this month.
Wardak said Taliban militants had stepped up their attacks to coincide with the alliance deployment, aiming to undermine public support for the Afghanistan mission in European NATO countries.
"There is a regrouping and an intensification of the efforts," he said in the interview. "One element has to do with this takeover of NATO from the coalition."
More than 1,600 people have been killed in Afghan violence this year, most of them Taliban, according to U.S. and Afghan figures. More than 60 foreign troops have been killed.