ST. PETERSBURG, Russia - US President Bush says he enjoys a "solid friendship" with Russian President Vladimir Putin, despite differences over Israel, Iraq, trade, human rights and a host of other issues. The two are trying to resolve those differences in face-to-face meetings ahead of a summit of global powers here.
Bush and Putin were meeting Saturday to discuss the many crises shaking the world, after a more relaxed barbecue dinner Friday night with their wives at a government-owned villa. The two leaders planned a joint news conference Saturday.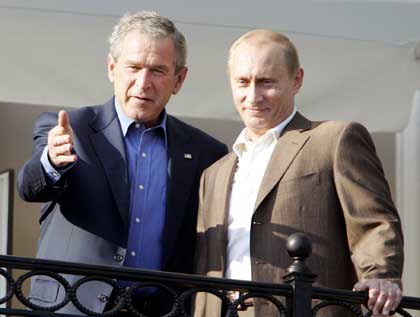 U.S. President George W. Bush (L) and Russian President Vladimir Putin gather before a social dinner on the grounds of the Konstantinovsky Palace in Strelna, Russia July 14, 2006. [Reuters]


The U.S. and Russian presidents - along with the leaders of Britain, Canada, France, Germany, Italy and Japan - are gathering for the annual Group of Eight economic summit, which begins Saturday night and continues through Monday. This is Russia's first year as host.

The recent violence between Israel and Hezbollah militants in Lebanon is a late but unavoidable addition to the agenda.

Bush refused Friday to pressure Israel for a cease-fire. He called on the leaders of Egypt and Jordan to explore ways to end three days of furious fighting.

But the White House signaled skepticism about a cease-fire plea from Lebanese Prime Minister Fuad Saniora. "The president is not going to make military decisions for Israel," said White House press secretary Tony Snow, saying it was unlikely that Israel or Hezbollah would agree to a cease-fire now.

That put Bush at odds with Putin and several other G-8 members who have criticized Israel's attacks and called for just such a cease-fire.

Putin called Friday on all sides in the Middle East fighting to end the bloodshed immediately.

"No hostage-takings are acceptable ... but neither is the use of full-scale force in response to these, even if unlawful, actions," Putin said. "We will demand that all sides involved in the conflict immediately stop the bloodshed."

Putin told a meeting of young people from G-8 countries that he would raise the issue with Bush.

Bush and Putin have some issues apart from those pressing on the full G-8 membership. The two countries appear close to announcing an accord in which the U.S. would bestow its long-sought blessing on Russian admission into the World Trade Organization, the 149-nation group that sets the ground rules for global trade and investment.

Also, the two countries were expected to announce a sharing agreement on civilian nuclear power. Among other things, the pact ¡ª yet to be negotiated ¡ª could allow Russia to store spent nuclear fuel from U.S. allies.

The Bushes and the Putins had a relaxed dinner Friday night at a villa on the grounds of the opulent 18th century Konstantin Palace, which Putin chose as the headquarters for the G-8 summit.

Putin showed off the vintage car that had been his first, owned when he was a student in the 1970s. Bush said his first car was a Triumph, which Putin said sounded more like a bicycle. The leaders shook hands and hugged. Putin gave Laura Bush three kisses on alternate sides of her face.

Asked by a reporter about the state of his friendship with Putin, Bush responded, "Solid friendship."

Earlier, Bush met with a group of 17 Russian activists troubled by Putin's steps away from individual rights and democracy.

Bush said he shared their concerns, and promised to deliver some of their specific grievances to Putin when they met.

At the same time, Bush said, he considered Putin a friend and it was important for the United States to "stay engaged with Russia."