Israel blasted Beirut's airport and other Lebanese targets Thursday, bringing its air and naval campaign to the doorsteps of the capital and threatening massive retaliation after guerrilla rockets for the first time reached Israel's third-largest city, Haifa.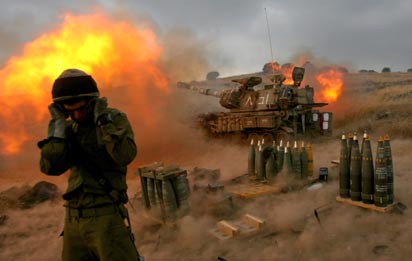 Israeli soldiers stand behind a mobile artillery piece firing from the Zaura area across the Lebanese frontier July 13, 2006. [Reuters]
The fighting, which killed 57 people, was a dramatic escalation in the battle between Israel and Hezbollah, an Islamic militant group which has a free hand in southern Lebanon and holds seats in parliament. The Lebanese government, caught in the middle, pleaded for a cease-fire.
But Israel said it was determined to beat Hezbollah back and deny the militant fighters positions they traditionally held along the northern border.
"If the government of Lebanon fails to deploy its forces, as is expected of a sovereign government, we shall not allow Hezbollah forces to remain any further on the borders of the state of Israel," Israeli Defense Minister Amir Peretz said.
Israel's offensive was its heaviest in Lebanon in 24 years, launched after Hezbollah guerrillas snatched two Israeli soldiers in a brazen cross-border raid Wednesday. Two days of Israeli bombings killed 45 Lebanese and two Kuwaitis and wounded 103. Two Israeli civilians and eight Israeli soldiers have also been killed, the military's highest death toll in four years.
With the airport closed, many tourists were trapped while others drove over the mountains to Syria, though Israeli warplanes struck the highway linking Beirut to the Syrian capital of Damascus early Friday, closing the country's main artery and further isolating Lebanon from the outside world.
Beirut residents stayed indoors, leaving the streets of the capital largely empty. Others packed supermarkets to stock up on goods. Long lines formed on gas stations, with many quickly running out of gas.
Israel said its attacks were intended to prevent the movement of the captured soldiers and hamper Hezbollah's military capacity. It said it had information Hezbollah was trying to take the two soldiers to its ally, Iran.
Fears mounted among Arab and European governments that violence in Lebanon could spiral out of control in a volatile region already torn by conflicts in Iraq and in Gaza. Israel has launched an offensive in Gaza against Hamas, whose fighters are holding another Israeli soldier captured two weeks ago.
US President Bush backed Israel's right to defend itself and denounced Hezbollah as "a group of terrorists who want to stop the advance of peace."
But he also expressed worries the Israeli assault could cause the fall of Lebanon's anti-Syrian government. "We're concerned about the fragile democracy in Lebanon," Bush said in Germany.
The European Union took a harsher tone, criticizing Israel for using what it called "disproportionate" force. EU foreign policy chief Javier Solana said he was planning a peace mission.
The Arab League called an emergency meeting of foreign ministers in Cairo on Saturday, and Palestinian President Mahmoud Abbas warned that Israel's Lebanon offensive "is raising our fears of a new regional war."
Egypt launched a diplomatic bid to resolve the crisis, amid apparent frustration among moderate Arab nations that Hezbollah, and by implication its top ally Syria, had started the fight with Israel.
The shockwaves from the fighting began to be felt as tensions sharpened and crude oil prices rose to a new intraday record of US$76.30 a barrel.
Hezbollah's rocket attack on the port city of Haifa was its deepest such strike into northern Israel yet. No injuries were reported in Haifa, home to 270,000 residents and a major oil refinery 30 miles south of the border. Still, the Israeli ambassador to the United States, Daniel Ayalon, called the attack "a major, major escalation."
"Those who fire into such a densely populated area will pay a heavy price," said David Baker, an official in the Israeli prime minister's office.
Hezbollah's deputy leader denied its fighters fired on Haifa, but Israel blamed the group, which had warned earlier in the day it would strike the city if Beirut were targeted. Israeli officials at first did not confirm that the blast was a rocket, but after an investigation they confirmed it was a Katyusha launched from southern Lebanon. Witnesses also confirmed that a rocket hit the city.
The militants also fired rockets at four other northern Israeli towns, killing a 40-year-old woman on her balcony in Nahariya and a man in Safad.
Soon the Haifa attack, Israeli helicopter gunships raked fuel depots at Beirut's seaside airport with machine guns and missiles. The tanks exploded, sending gigantic flames into the night sky just outside Beirut. Earlier in the day, warplanes shut down the airport with strikes that pounded craters into all three of its runways, and Israeli warships sealed Lebanon's ports.
By evening, strikes in Hezbollah's stronghold in Beirut's southern neighborhoods appeared imminent. After nightfall Israeli planes dropped leaflets in south Beirut warning residents to avoid areas where Hezbollah operates.
Army chief Brig. Gen. Dan Halutz warned that "nothing is safe" in Lebanon.
The Israeli warnings of more to come caused panic in Beirut, as people stuck to their homes and stayed away from their jobs.
Thousands, foreign tourists and Lebanese, took to the road from Beirut to Damascus, the only way out of the country after the airport was closed. Travelers to and from Beirut were stranded all over the region after Israel hit the Beirut airport after dawn Thursday. Among them was Foreign Minister Fawzi Salloukh, who was returning from a visit to Armenia and, like many, was forced to make his way home through Syria.
Among the Lebanese dead were a family of 10 and another family of seven, killed when strikes hit their homes in the southern village of Dweir.
"It's a massacre," said Abu Talal, a 48-year-old resident who joined scores of Hezbollah supporters and townspeople at the funeral of Shiite cleric Sheik Adel Akkash, who was killed along with his wife and eight children, ages 3 months to 15 years.
"This is the (Israeli) arrogance. The raids aim to terrorize us, but morale is high."
The last time Israeli strikes targeted Beirut was in 2000, when warplanes hit a power station in the hills above the city after a Hezbollah attack killed Israeli soldiers. Israel has not hit Beirut's airport since its 1982 invasion of Lebanon and occupation of the capital.
Israel says it holds Lebanon responsible for Hezbollah's snatching of the two soldiers, Ehud Goldwasser, 31 and Eldad Regev, 26. The Lebanese government insisted it had no prior knowledge of the move and did not condone it, and even withdrew its ambassador to the US after he made comments seemingly in support of the guerrillas.
Hezbollah fighters operate with almost total autonomy in southern Lebanon, and the government has no control over their actions. But the government has long resisted international pressure to disarm the group. Any attempt to disarm Hezbollah by force could lead to sectarian conflict.