Oil prices surged to a record above US$78 a barrel Thursday in a market agitated by escalating violence in the Middle East and the threat of supply disruptions there and beyond.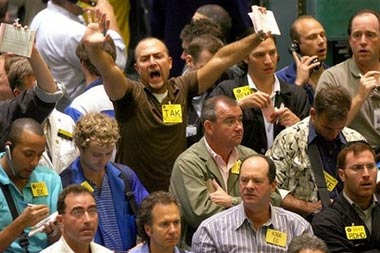 Traders work the oil futures pit at the New York Mercantile Exchange, Thursday, July 13, 2006. Oil prices shot up to a new high, roiling stocks on Wall Street, as hostilities in the Middle East escalated. [AP Photo]
The latest surge in oil shook stock-market investors' confidence, though economists said most US consumers and businesses appear to be absorbing higher energy costs surprisingly well.
US gasoline demand continues to rise in spite of near US$3-a-gallon pump prices, core inflation remains relatively low and the US economy is forecast to grow by roughly 3 percent in the second half of the year.
"Two years ago I might have said that US$70 or US$75 a barrel would be some kind of a tipping point. Now I'm not so sure anymore," said Nariman Behravesh, chief economist at Global Insight, a private forecasting firm.
Still, Behravesh said lower-income Americans are suffering disproportionately from higher energy costs and "I could certainly make a policy case for helping them out on a temporary basis."
Light sweet crude for August delivery settled at a new high of US$76.70 a barrel on the New York Mercantile Exchange, then continued climbing in after-hours electronic trading, when volumes are significantly lower, to US$78.35. The rally came as fighting between Israel and Lebanon intensified, explosions hit Nigerian oil installations and a diplomatic standoff dragged on between the West and Iran over its nuclear program.
The previous Nymex settlement record of US$75.19 was set July 5. The previous intraday record of US$75.78 was posted two days later.
Adjusted for inflation, oil prices would need to rise to about US$90 a barrel to exceed the highs set a quarter century ago when supplies tightened in the aftermath of a revolution in Iran and a war between Iraq and Iran.
Today oil prices are being pushed higher by rising global demand and worries that the world's limited supply cushion would not be adequate to offset a lengthy disruption to output in major producing countries, such as Iran or Nigeria. There are also concerns about the risks hurricanes pose to US production.
The latest fear being priced into the market is that the conflict between Israel and Lebanon could spill over into other corners of the Middle East, the region that produces nearly a third the world's oil and contains almost two-thirds of its untapped reserves.
Israel intensified its attacks against Lebanon on Thursday, imposing a naval blockade, twice hitting Beirut's airport and blasting two Lebanese army air bases near Syria. Hezbollah fired more than 100 rockets into Israel, which said one also struck the port city of Haifa. More than 51 people have died in two days of violence following the capture of two Israeli soldiers by Hezbollah militants, who have financial links to Syria and Iran.
Iran has threatened on more than one occasion to use oil as a weapon if the United Nations uses economic sanctions or some other punishment in its dispute with Tehran over its nuclear program. While OPEC's No. 2 supplier has not raised the issue of withholding oil from the market in a sign of solidarity with Hezbollah, the possibility is no doubt influencing oil traders' actions.
"It plays psychologically in people's minds," said Larry Goldstein, president of the Petroleum Industry Research Foundation, a New York-based industry-financed think tank. "You don't have to hear them say it."
In Nigeria, government officials said twin explosions hit oil installations belonging to an Italian oil company in the volatile southeastern delta region. Elsewhere, militants attacked a group of 11 boats carrying supplies to Chevron's offshore oil fields Wednesday, killing four navy sailors who were escorting the convoy, Brig. Gen. Alfred Ilogho said Thursday.
"The oil price has become a register of geopolitical tensions and fears," said Daniel Yergin, who heads Cambridge Energy Research Associates.
Yergin said petroleum supply-demand fundamentals are improving, with global oil inventories and spare oil-production capacity rising, but clearly not enough to offset the geopolitical unrest.
The surge in oil prices rattled stock market investors, sending the Dow Jones industrials sharply lower for the second straight day. Shares of Wal-Mart Stores Inc., the world's largest retailer, slumped 2 percent on the New York Stock Exchange on concerns that high energy prices are cutting into consumers' discretionary income.
"The economy took US$50 oil in stride," Yergin said. "It's clearly not taking US$70 or US$75 a barrel in stride. This is a rougher adjustment."
With US oil companies such as Exxon Mobil Corp. and Chevron Corp. earning record amounts, some members of Congress have proposed taxing "windfall" profits in order to finance energy assistance programs for the poor, but the idea does not have wide support.
The energy-policy debate in Washington right now centers around efforts to repeal the ban on offshore drilling and to fix a law that allows oil and natural-gas companies to avoid billions of dollars of royalty payments on offshore drilling leases.
Critics say Congress has failed in its approach to deal with soaring energy costs because it has not given as much attention to curbing demand as it has to adding supplies, such as a hotly debated proposal to open an Alaskan wildlife refuge to oil drilling.
"We too often forget that the United States is far and away the biggest consumer of oil," said Tyson Slocum, an energy expert at Public Citzen, a Washington-based consumer watchdog. Slocum said the country needs to invest more in public transportation and to sharply increase automobile fuel-economy standards.