A majority of the British public, including supporters of the governing Labour Party, believes that embattled Deputy Prime Minister John Prescott should resign, according to a poll published Tuesday.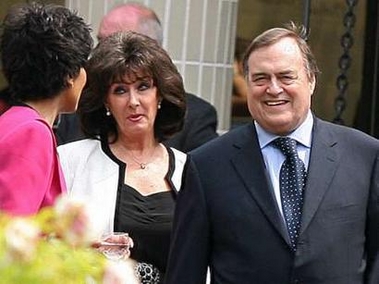 Deputy Prime Minister John Prescott (R) and his wife Pauline (C) react at the opening of the William Wilberforce Institute for the study of Slavery and Emancipation (WISE) in Hull, northern England, July 6, 2006. Parliament launched a full inquiry on Thursday into Prescott's contacts with an U.S. billionaire who hopes to open a London casino in the Millennium Dome.[Reuters]
Prescott, who has been Prime Minister Tony Blair's link to left-wing party supporters, has been undermined by recent disclosures of an affair with a civil servant in his office and his meetings with an American billionaire who is seeking a casino license in London.
In the Populus poll commissioned by The Times, 70 percent of the respondents though Prescott should resign. Among Labour voters, 59 percent wanted Prescott to go.
The poll also showed an increase in the number of those who want Blair to step down this year _ 49 percent in the current survey compared with 41 percent in January.
Blair has said he will resign before the next national election but has resisted pressure to set a date.
The Populus poll was based on telephone interviews with 1,512 adults on July 7-9, and had a margin of error of 3 percentage points.
Prescott recently confirmed that he has met twice a year with Philip Anschutz, an oil, media and transport billionaire who has taken over the vast Millennium Dome in London. Anchutz is seeking a license to operate a casino there, but Prescott says the two never discussed that issue in their meetings.
After the story broke, Prescott agreed to record his stay at Anschutz's Colorado ranch in the Register of Members' Interests, the official record of lawmakers' financial dealings.
Philip Mawer, the parliamentary commissioner for standards, said he will hold a full inquiry into the matter.
Prescott, 68, admitted earlier this year that he had had a fling with his diary secretary, Tracey Temple.
In May, Blair relieved Prescott of his departmental responsibilities, which included land-use planning.